Updated 2/27, 1:25 p.m. The IT world, bound as it is to computer science, loves to track and credit specific innovations. So it's not surprising that outrage ensues when the credit is misplaced -- or seems to be.
This truth came home to me when I read last week's Washington Post article about the "inventor of email." Or, I should clarify, after I read the original article following a series of impassioned complaints about it on an email forum to which I subscribe.
The article discusses how the Smithsonian Institution has acquired documentation showing that VA Shiva Ayyadurai, a former MIT student (now a graduate of that institution who's been a lecturer there), invented email when he was a 14-year-old high schooler in Livingston, N.J. The paper explains how Ayyadurai donated his archival work to the Smithsonian after a profile in Time Magazine and a few other events spotlighted the situation.
The newspaper does not explain the evolution of events as Ayyadurai describes them: Ayyadurai learned programming in 1978 after taking courses offered to gifted students by an NYU professor. Afterward, as part of an independent study project, Ayyadurai traveled to the University of Medicine and Dentistry of New Jersey's campus in Newark, where he was commissioned (informally, it seems) to create a system for electronic messaging that incorporated the same user interface deployed in interoffice memos of the time -- fields for "To," "From," "CC," and "Bcc." The system took off among the doctors at the university.
In 1981, since software wasn't patentable by law, Ayyadurai copyrighted the term "EMAIL" (note the all caps).
So, VA Ayyadurai claims to have invented the first UI to include interoffice memo features, the predecessor to popular email systems. And as one forum commenter wrote, the reference in all capitals seems to safeguard any claims against Ayyadurai's copyrighting the general term.
After the WaPo story went live, the paper issued a clarification distinguishing the claim to copyrighting a term from the claim to have actually invented email. But the headline stands.
Despite the lukewarm retraction, it didn't take much for the Washington Post headline and the Time Magazine article (see cover shot below) to generate a firestorm of negative comments. Some relatively mild samples from the WaPo message board include "Obviously V.A. Ayyadurai is both telepathic and able to project his breakthrough ideas backward in time!" and "This is a bug [sic] problem with the Internet as a reference source - false stories like this tend to spread."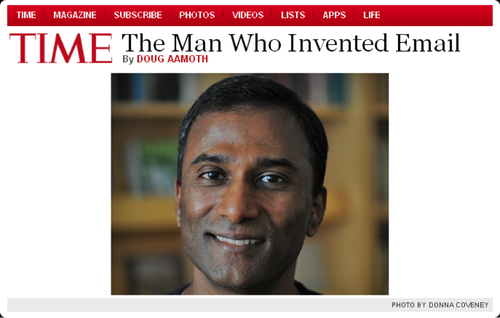 The online forum where I first spotted the story was no kinder, but there participants attempted to illustrate the many instances of email predating Ayyadurai's work, including the Arpanet project, a predecessor to today's Internet.
One commenter summarized the situation:
Email/message systems were started very early in the late 60's and by 1978 they were all over the place with companies and universities using them. To put out a newspaper article that someone in 1978 had sort of invented the field was a bit much for many old timers. Since that message lots of comments have appeared on the Washington post article and the paper has made corrections and realized that a copyright of a single program is not a trademark for the term.
For his part, VA Ayyadurai is unfazed and unrepentent. "I did not claim that I created electronic communications," he told me on the phone today. He says the veracity of his claim is "for historians to validate." He invites scrutiny of the records at the Smithsonian, which will be archived in that organization's National Museum of American History.
On Friday, February 24, that museum issued a statement that describes why Ayyudaurai's materials were collected:
In accepting these objects, the museum did not claim that Ayyadurai was "the inventor of email," as some press accounts have alleged.
Exchanging messages through computer systems, what most people call "email," predates the work of Ayyadurai. However, the museum found that Ayyadurai's materials served as signposts to several stories about the American experience.
Those stories also have little to do with Ayyadurai directly. According to the museum, "One important story these materials document relates to computer education... A second story relates to the role of computers in medicine." The museum says Ayyadurai's records were worth collecting because he attended an interesting program at NYU in the 1970s and worked on an email system for doctors in New Jersey (which won him, along with many other students with separate projects, a 1981 Westinghouse Science Talent Search award).
VA Ayyadurai sees his story as one of bootstrap innovation. He says many people are skeptical that a 14-year-old could create such a compelling invention. And he does not regret that he was unable to patent it. "I do not frankly believe in software patents," he said today. In his view, if he had tried to patent the technology he created, further innovation, including modern email systems such as Gmail and Hotmail, would have been stifled.
Thus VA Ayyadurai has painted a target on his back. And a small but vociferous cadre of geeks stand ready to shoot.
Related posts:
— Mary Jander
, Managing Editor, Internet Evolution