As an IT professional, are you pleased with your pay? If not, do you have the skills to move up or to another area of enterprise IT? What are the hottest IT jobs right now?
Attempting to address these questions, the change management software vendor Evolven recently aggregated some IT salary surveys from various publications. The picture that emerges from this compendium of results is informative and perhaps surprising.
About pay, most IT pros are seeing flat or slightly improved compensation. Though budgets remain tight, there is a glimmer of optimism about economic conditions overall. For instance, in its survey of 19,798 technology workers, the career site Dice reports that roughly half received a salary increase this year, albeit a very small one (less than 1 percent). Dice also notes, however, that starting salaries for technology workers have dropped overall.
Pay improves with rank, skill level, and employer size. The findings by Dice include the following:
Technology professionals on average earned $88,075 working for companies in excess of 5,000 employees, while the smallest companies (50 or fewer employees) paid on average $69,658 to their technology workers.
As to rank, a survey of 5,000 IT workers by Computerworld shows that in 2011, CIOs earned an average base pay of $161,509 and an average bonus of $29,469, for total compensation of $190,978 -- an increase of 2.8 percent over the figures for 2010. (Note that the CIO salaries reported in all of the surveys cited here ranged significantly from just less than $140,000 to more than $200,000.)
These results echo an InformationWeek survey of 1,441 IT professionals, which shows that CIOs, CTOs, and IT VPs saw small salary increases as well in 2011. For the 433 CIOs who responded to the survey, a median annual base salary of $142,000 was reported, compared with $140,000 in 2010. For the 353 CTOs responding, the median annual salary of $120,000 was flat year over year, and 655 VPs of IT reported a median base salary of $140,000 for 2011, compared to $139,000 for 2010.
What about skills? Networking and systems engineering, security, software development, data warehousing and business intelligence, and analytics rank high.
According to the career firm Robert Half's survey of "thousands" of IT staffers, network architects can earn nearly as much as CIOs: In 2012, the average salary range in the US for that job is $95,500 to $137,000, while CIO pay starts at $139,750.
According to the Robert Half survey, network administrators and database managers are the IT workers most in demand.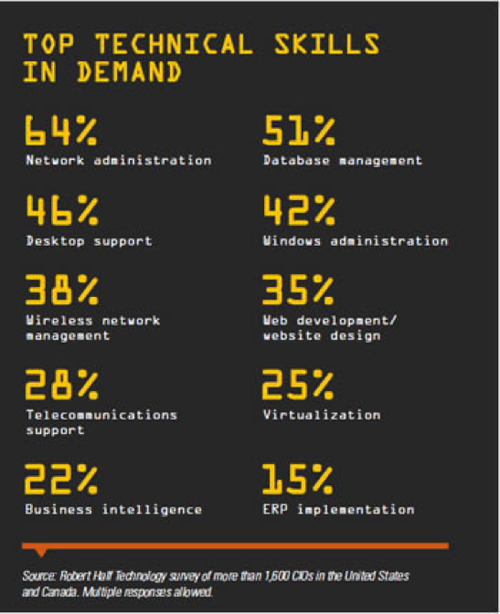 These trends are no surprise. As Internet Evolution contributor Mary E. Shacklett has noted, network systems and data communications analysts have been in demand for a while. And network security certifications are increasing the value of IT candidates in the eyes of prospective employers.
Additionally, employers are looking for specific networking and security skills among technicians and developers, as noted by Robert Half:
Table 1: IT Certifications in Greatest Demand

Cisco certifications – Cisco Certified Network Associate (CCNA) and Cisco Certified Internetwork Expert (CCIE)
Linus certifications – Red Hat Certified Engineer (RHCE)
Microsoft certifications – Microsoft Certified IT Professional (MCITP), Microsoft Certified Systems Engineer (MCSE), Microsoft Certified Technology Specialist (MCTS) and Microsoft Certified Professional Developer (MCPF)
Project management certifications – Project Management Professional (PMP)
Security certifications – Certified Information Systems Security Professional (CISSP), Check Point Certified Security Administrator (CCSA), and Check Point Certified Security Expert (CCSE)
VMware certification – Vmware Certified Professional (VCP)
All of these trends should be good news to IT professionals. There is still great demand for skilled IT work, and though the economy continues to wobble, there are what Dice calls "glimmers of business recovery" on the horizon.
Related posts:
— Mary Jander
, Managing Editor, Internet Evolution