IT professionals love hard facts. It comes with the turf. So it's no surprise that many view the process of intuition skeptically. Indeed, increased use of analytics in enterprise information processing reflects an underlying mistrust of intuition in making tough business decisions.
But is there no room for intuition in IT at all?
The answer may depend on how one defines intuition. For some researchers, intuition has been described as the ability to make decisions quickly, on the fly, without much reflection. The success of intuition thus depends on a person's ability to synthesize information effectively. So success in intuitive decision-making depends on how much experience people have and how smart they are (and therefore how many facts they can recall).
At the same time, it isn't tough to find instances when intuition fails. The stock market is full of "geniuses" who eventually made the wrong choices. The trick seems to be to apply intuition where it can be most useful.
Finding where intuition best applies in business can be tricky. For purveyors of IT software and services, intuition is useful only if it can be backed up with analytics. Indeed, in describing the use of analytics in a medical project, a writeup from IBM Research basically devalues reliance on intution at all, even though medicine is a field where intuition has always played a strong role. The argument goes that if even the basic terminology of medicine can't be nailed down intuitively, what hope is there for more specific information to be processed adequately through human brainpower alone?
A study has shown that basic vocabulary to express uncertainty, such as "likely", "highly probable", etc., has a wide range of interpretation for individual physicians. The meaning of "likely", for instance, can range from not probable (around 20% of occurrences) to highly probable (around 95% of occurrences), depending on how an individual physician defines it.
There is thought on the other side of the issue, as well, which states that expert input can help in the creation of good analytics. In a blog, George Danner, president of Business Laboratory LLC, a Houston scientific simulation and analysis consulting firm, states:
Models don't replace human intuition, knowledge, and experience -- they codify them. Done properly, models and human judgment are seamlessly interwoven into a single, organized body of knowledge. An institutional artifact that is worthy of preservation and continuous use.
Some general tips have emerged in the past few years about how best to use intuition along with analytics. Here are a few worth mentioning:
Don't rely on intuition alone. In a paper published in May 2010, Daniel J. Simons of the University of Illinois at Urbana-Champaign and Christopher F. Chabris of Union College in New York warn against relying solely on intuition:

The trouble with intuition is that while intuitive modes of thought are easier to use than analytical modes, they are poorly adapted to many circumstances and decisions we face in the modern world. If we follow our gut instincts, we will talk on the telephone while we drive, have too much trust in eyewitnesses, and believe we know what causes what -- in health care, finance, politics, and every other domain -- without even realizing that we haven't considered the right evidence, let alone come to the right conclusions.

Be willing to examine intuition for flaws. Finding a balance between intuition and analytics requires a willingness to examine how intuition fails. Only with this kind of honest appraisal can intuition be used effectively in corporate decision-making.
Apply intuition to finding the right questions, not answering them. In a press statement in a report on analytics, IBM, which has a vested interest in the subject, nevertheless makes a compelling argument:

Flip the equation in the approach to data and insights: Many organizations start new initiatives by gathering all of the available data on a topic and then extracting whatever insights they can get. Instead, the first step should be to identify what specific insights are needed, and then identify those pieces of data needed for answers.
As the new year begins, intuition will continue to play a role in IT and other areas of the enterprise. But it will increasingly play a role subordinate to analytics.
— Mary Jander
, Managing Editor, Internet Evolution
The ThinkerNet does not reflect the views of TechWeb. The ThinkerNet is an informal means of communication to members and visitors of the Internet Evolution site. Individual authors are chosen by Internet Evolution to blog. Neither Internet Evolution nor TechWeb assume responsibility for comments, claims, or opinions made by authors and ThinkerNet bloggers. They are no substitute for your own research and should not be relied upon for trading or any other purpose.

previous posts from IT Clan Editor's Blog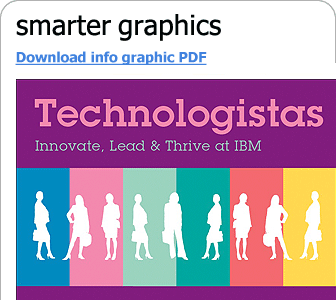 an IBM information resource


an IBM information resource

Expert Integrated Systems: Changing the Experience & Economics of IT

In this e-book, we take an in-depth look at these expert integrated systems -- what they are, how they work, and how they have the potential to help CIOs achieve dramatic savings while restoring IT's role as business innovator.
READ THIS eBOOK


your weekly update of news, analysis, and
opinion from Internet Evolution - FREE!
REGISTER HERE



Wanted! Site Moderators

Internet Evolution is looking for a handful of readers to help moderate the message boards on our site – as well as engaging in high-IQ conversation with the industry mavens on our thinkerNet blogosphere. The job comes with various perks, bags of kudos, and GIANT bragging rights. Interested?

Please email: moderators@internetevolution.com