IBM released a study today that indicated organizations gaining competitive advantage through high cloud adoption are reporting almost double the revenue growth and nearly 2.5 times higher gross profit growth than peer companies that are more cautious about cloud computing.
IBMís survey also revealed that the cloudís strategic importance to decision-makers, such as CEOs, CMOs, finance, HR and procurement executives, is poised to double from 34 percent to 72 percent -- vaulting over their IT counterparts at 58 percent.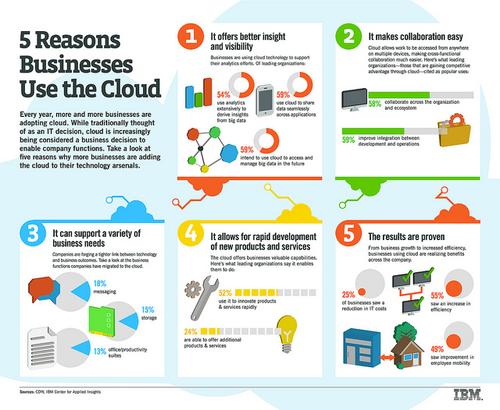 The survey found that one out of five organizations is ahead of the curve on cloud adoption and achieving competitive advantage -- not just cutting costs and driving efficiency -- through cloud computing.

These leading organizations see the benefits of using the cloud -- they are 170 percent more likely to use analytics extensively via cloud to derive insights for better business decisions.

The survey was conducted with more than 800 business decision makers and users worldwide. Forty percent were C-level executives (28 percent CIOs and 12 percent other C-suite roles).

Evenly split between business and IT functions, participants spanned 24 industries and 13 countries, including both growth and mature markets. They work in enterprises of varying sizes -- 21 percent with 10,000 or more employees and, at the other end of the spectrum, 26 percent with less than 1,000 employees.

Whatís in the cloud?
IBMís research found that leading organizations are looking to the cloud to differentiate them from their competitors. In fact, they are 136 percent more likely to use cloud to reinvent customer relationships.

Compared to more cautious cloud adopters, leading organizations are:
117 percent more likely to use cloud to enable data-driven decisions


79 percent more likely to rely on cloud to locate and leverage expertise anywhere in the ecosystem for deeper collaboration


66 percent are using cloud to strengthen the relationship between IT and lines of business and the majority are using cloud to integrate and apply mobile, social, analytics, and big data technologies
The study findings suggest that business and technology leaders should prioritize cloud investments in areas where they can differentiate from the competition.
By 2017, the public cloud services market is predicted to exceed $244 billion.
Companies are looking to capitalize on this fast growing opportunity around the cloud for business transformation. IBM has invested more than $6 billion in more than a dozen acquisitions since 2007 designed to accelerate its cloud initiatives, including 10 since 2010.
IBM teams with 100 universities globally to teach cloud skills
To help address the exponential growth of cloud computing, IBM has engaged more than 100 academic institutions from around the world to collaborate on technology curricula for students and mid-career professionals to gain the latest skills in cloud computing and prepare them for high value jobs in the future.
In partnership with the IBM Academic Initiative, these institutions have created new courses of study at the undergraduate, graduate, and executive education levels that will include no charge access to IBM assets and cloud thought leaders.
For more information or to download the full report visit http://ibm.co/Hh39qy
Follow IBM cloud discussion on Twitter at @IBMcloud and on the Thoughts on Cloud blog.