It's easy to get all caught up in what's going on here in the US with respect to the e-commerce front, only to be reminded how much innovation and change is being driven elsewhere around the world.
And those changes aren't just necessarily innovations being left to given home markets.
See Rakuten, which TechCrunch just reported, is launching a beta to take its "Wuaki" video streaming service to the UK.
According to the post by Ingrid Lunden, the UK is simply going to be a first stop in Wuaki.tv's European expansion beyond the company's home market in Spain.
You read that right: A Japanese e-commerce vendor that launched a video stream company in Spain, which is now expanding into the UK.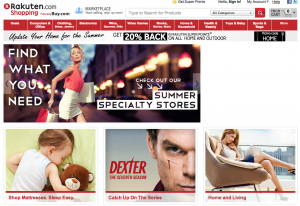 Rakuten has already entered the US market via its acquisition of Buy.com, a $250 million deal back in 2010. TechCrunch reported that year Rakuten in Japan already had 64 million members in that country, and had reached $3.2 billion in sales.

It has also expanded in select markets in Asia, including Korea, Thailand, and China, and according to its Wikipedia entry, has over 10,000 employees worldwide.

Rakuten has followed in the footsteps of groundbreakers like Tesco and others through the introduction of its "Rakuten Super Points" program, one designed to reward loyal shoppers with points redeemable as payment toward future purchases.

In the US version of the program, Rakuten builds on Buy.com's existing customer service efforts, which includes a 45-day product return policy with no restocking fees, along with free shipping on millions of products throughout Rakuten.com.

Rakuten has also been very busy on related fronts, having bought Webgistix, a US-based logistics and services company specializing in e-commerce fulfillment technologies for retailers.

Webgistix helps e-commerce companies manage their supply chains with software for order fulfillment, freight management, and shipment optimization, and also owns a network of fulfillment centers that allows merchants to reach 98 percent of e-commerce customers in the US within one to two business days.

As TechCrunch observed in its recent coverage, "Webgistix is Rakuten's answer to Amazon Prime in the U.S."

It's Rakuten's mobile commerce strategy that probably most bears watching, however.

Company CEO Hiroshi Mikitani told TechCrunch last year that a quarter of the company's $5 billion in annual revenues was coming via mobile phones, and that overall mobile was growing 300 to 400 percent year-over-year.

That means within only a couple of years, mobile could account for half of all Rakuten's transactions.

With all these investments, one wonders whether a more broad-based investment in mass and social media marketing might be in the works to help build awareness of the Rakuten brand in the US?

Then again, that would be the e-commerce equivalent of crossing the Rubicon... or, in Rakuten's circumstance, the Amazon.