Microsoft Corp. (Nasdaq: MSFT) has been on top in the browser market forever. Much of this is as a result of the fact that Internet Explorer comes with Microsoft's OS. But Microsoft has a problem.
In the last six months, Microsoftís share of the browser market has slipped significantly. In fact, when you look at the last six months of 2008, during which time its share was increasing, the recent downfall is even more dramatic. It's gone from an expanding platform to one that is losing share.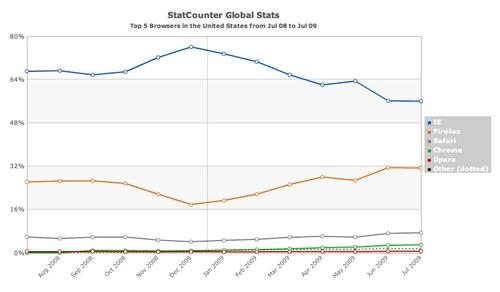 What can be learned from the eventual demise of Internet Explorer?
There, I said it. There will come a day when Internet Explorer (IE) is grouped into that "other" category because so few people are using it. Why?
First of all, regardless of industry, when you are No. 1 you are a target. IE is no exception. Remember Sears? It was the retail giant, now itís Walmart; and eventually Walmart will be replaced as well. In fact, it's already showing less profit per store, so the signs are there.
Remember GM? Its place as the dominant auto manufacturer has declined to the point that if you are a U.S. citizen, you now own a part of the company -- congratulations!
Regardless of industry, when you are No. 1, all your warts and weakness are exposed, and business models can be built to exploit those weaknesses. Initially, the new business peacefully coexists, then eventually it takes over. For a long time, Walmart was the place to go get stuff cheap and Sears was the place for quality goods and services. Now Walmart is the place to go to get just about everything cheap.
Of course, Walmart was not the sole reason for Sears's undoing, any more than Firefox is the reason for Internet Explorer's. Sears also had the problem that it was under attack from all sides -- discount appliance centers, discount stereo centers, discount lawn and garden centers, and high-end boutique stores.
Attacking Microsoft IE at its core are Firefox, Safari, Chrome, Opera, and a host of others. People don't use Microsoft's OS as their sole point of browsing anymore.
Another threat is that sales of Linux, thanks to netbooks, are on the increase. Admittedly, most netbooks today are Windows-based, but the fact that there is a measurable percentage that are not, hurts Microsoft. Further, if Google's new OS is going to be successful, it will likely be in netbooks, and I am pretty sure that particular OS won't ship with IE. Finally, there is the growth in the Mac OS platform to consider.
Most importantly, though, there is growth in the mobile browser market, where, for all intents and purposes, Microsoft is a fringe player. The following graph shows that among mobile phone browsers, iPhone, iTouch (same browser), and BlackBerry dominate this space. IE Mobile is almost non-existent.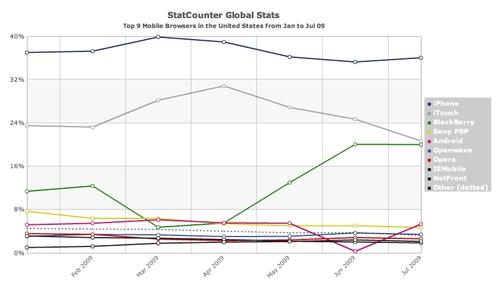 It is tough for a technology to stay at No. 1. The fact that Microsoft has done so for so long deserves some recognition.
In software, there are hardly any barriers to entry, from a logistics standpoint. A smart, creative person with a compiler and a laptop can be building the next great browser as we speak. And they don't even need to invent the whole thing from scratch, thanks to all the open-source code examples that are out there. Even the distribution is built in.
The upshot: This may be the last decade in which we see a dominant Web browser, office suite, or email client. With the ability to exchange data across products, users will deploy a variety of tools.
The exception may be software that is tied more to the infrastructure -- data center operating systems, virtualization platforms, business databases, and email services, for example. Applications like these are harder to replace and, as a result, may be on more solid ground.
Microsoft may do well to focus on this data center market, because everything else will be hard to defend.
ó George Crump, President, Storage Switzerland