Vinod Khosla, who is widely considered the top venture capitalist today (or ever?), made his fortunes anticipating the big moves in computing (Sun Microsystems), networking (Cerent, Juniper Networks), and plenty of others during his tenure at Kleiner Perkins Caufield & Byers . And yet, talk to him today and you rarely hear a word about the Internet. Instead, he talks about climate change, biofuels, solar power, and clean coal.
Have a look at this chart below, which Khosla recently presented at a conference in Silicon Valley hosted by Goodwin Procter and The Deal.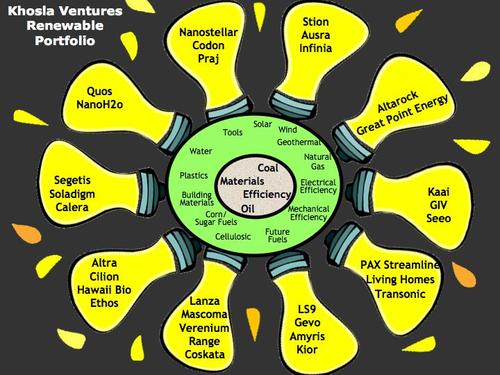 This figure (though not very pretty) represents all the greentech companies Khosla's own venture capital firm, Khosla Ventures , has invested in recently. It's a vast constellation of alternative energy, "green" materials, and innovative technologies supporting energy efficiency. To be fair, he has a few computing and Internet investments, such as the virtual computing company moka5 Inc. But to hear him speak during the past year, his passion today is climate change.
And, just as it has happened in the past, where Khosla goes, so goes the rest of the venture world -- a natural extension of the "follow the money" principal. (It's not just the venture world that is following Khosla's lead now, either. Even the inventor of the Internet, Al Gore, is getting in on the act!)
At first glance, you could be forgiven for thinking this is just another example of VC herd mentality -- the Internet's cooled off, Green is in. But ask anyone deep in the greentech industry and you'll hear the same refrain: The reality of climate change is encouraging policies that favor renewable energy. We're not in an oil shock as we were in the late 1970s, but rather a new "peak oil" period that will keep prices high forever. The technologies that underpin the greentech revolution are much more mature and easier to manufacture than they ever have been, and worthy of investment.
The ideal business model may be some clever hybrid -- a company that can apply Internet technologies to solve the massive energy crises we are about to grapple with. Hey, an Internet media company devoted to greentech seems like a great idea to me (and we could call it GreentechMedia!), but VCs have grander ambitions to be sure.
Since I've been in the greentech market, a few of these companies have caught my attention: Silver Spring Networks, which is building an IP-based networking solution for utilities so they can better implement energy efficiency programs; EnerNoc, which uses enterprise/IT skills to create a platform that lets utilities and big power users collaborate to reduce peak power demands; and even a little company called eMeter, which uses Web services and SOA to support advanced metering services for utilities.
And of course there is IBM Corp. (NYSE: IBM), which is not only pushing a program to encourage data center energy conservation, but has even found a way to turn unused semiconductor wafers into solar panels. [Ed. note: IBM is a sponsor of Internet Evolution, but the author has no business relationship with the company.]
Finally, for those of you out there who don't necessarily have a new technology to develop or a billion dollars to invest, it may be as simple as saying that once the atmosphere feels more like Venus than Earth, the Internet won't be worth a damn to anyone.
— Scott Clavenna, President & CEO, Greentech Media Inc.