Four-eyed futurians take heart! Google is now shipping eyeglass frames that work with Google Glass and prescription lenses.
The Titanium Collection is comprised of four "featherlight titanium frames," the company said in a Google+ post late Monday.
Like Google Glass itself, the frames are still limited to the small group of people who have been accepted into the "Explorer Program." Wider consumer launch is planned for later this year, according to The Verge.
All four frames are available [now] for $225. That's alternately pricey or reasonable, depending on how you buy glasses, but any potential buyers will also need to spend $1,499 on Glass itself — which is to say it's likely only those with a decent amount of disposable income would be interested anyway. If you've already bought Glass, you can just buy the frames and attach your current device.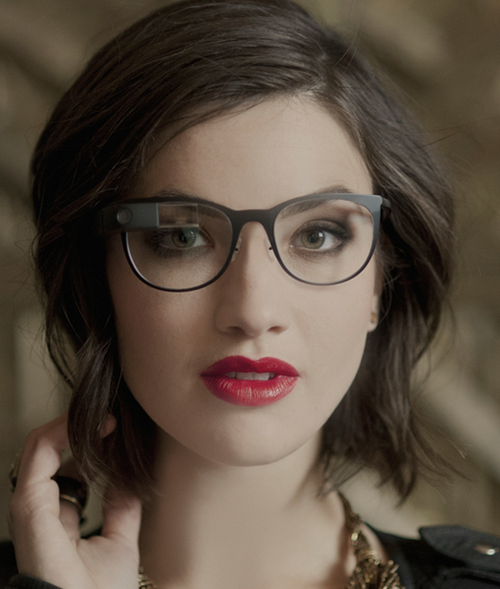 Google is also shipping two new styles of sunglasses.
Users will need to supply their own lenses, either from Google-approved specialists, or by going to their own eye doctor.
All of the options "are as good-looking as you could reasonably expect them to be -- considering that they're designed to work with a computer attached to your face," The Verge says.
How do they feel? Surprisingly good. I've worn glasses for nearly 20 years now and so I'm used to the feel of them, and these new frames didn't seem alien. That's in stark contrast to using Glass without the frames, which despite Google's best efforts always felt a little weird on my ears and nose.
But The Verge's Dieter Bohn said the battery pack gave him a "wonky ear" that stuck out a bit like Stephen Colbert. He said, "That's the price you pay for living in the future."
The new frames might make Glass more socially acceptable, but they are still pretty geeky, Bohn says.
And expensive. The frames don't work without Glass, so users will want to keep their regular glasses around for when they are not wearing the smart glasses, The Verge notes.
Given in the cost of the frames, Google Glass, and prescription lenses, as well as needing a pair of spare non-Borg specs, this ain't a cheap investment.
Your health insurance plan can help. Google and VSP, the nation's biggest optical health insurance provider, will offer subsidized frames and prescription lenses for Google Glass. VSP insures one-fifth of Americans.
The availability of stylish frames and prescription lenses will help drive acceptance of Google Glass. But they will only be a small help. What Google really needs to do is demonstrate why most people will want to wear a computer attached to their face.
Related posts:
Google Glass: A Segway for Your Head
— Mitch Wagner,

, Editor in Chief, Internet Evolution