Patience paid off for Lenovo when IBM today announced it will sell its x86 server business for $2.3 billion to the Chinese manufacturer that acquired IBM's PC business in 2005.
The acquisition will include IBM's System x, BladeCenter, and Flex System blade servers and switches; x86-based Flex integrated systems; NeXtScale and iDataPlex servers and related software, plus blade networking and maintenance operations. IBM plans to keep its System z mainframes; Power Systems; storage systems; Power-based Flex servers, along with PureApplication and PureData appliances. In addition, IBM will continue to develop software, both Windows- and Linux-based, for x86 products.
Further expanding the relationship between the two companies, IBM and Lenovo expect to forge a global OEM and reseller agreement to sell IBM's Storwize disk storage systems, tape storage systems, General Parallel File System software, SmartCloud Entry offering, and some system software elements, such as Systems Director and Platform Computing solutions, the companies said.
When IBM and Lenovo spoke about a deal in early 2013, the two companies couldn't come to an agreement on price. Lenovo valued the division at about $2.5 billion; IBM placed its value at $4 billion. Dell and Fujitsu, among others, considered an acquisition -- but about 12 months later, Lenovo emerges victorious and saves a few million dollars.
In the age of cloud, server sales -- and margins -- have been hit. But Lenovo's model is focused on higher volume and lower margins, an approach that to date has allowed it to succeed in areas like desktops and laptops.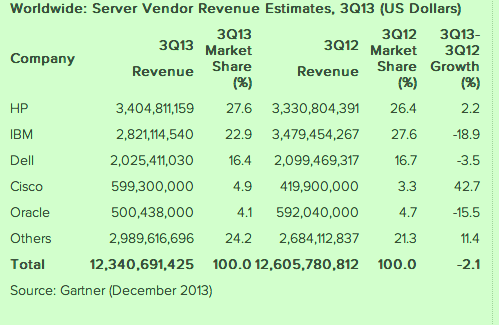 Once the deal is finalized, Lenovo will take over customer service and support for its newly acquired technologies. However, IBM will provide maintenance delivery, so IT departments should not see any immediate changes to their support, the company said.

That's good news for enterprise and SMB customers that rely on IBM's servers to power their datacenters and networks. Easing into change gives IT professionals time to get acclimated, ask questions, and determine whether their current IBM contact will remain with Lenovo (which is expected to offer jobs to IBM server employees).

Overall, IBM should emerge stronger, post-acquisition. Hardware has been a strain on its coffers; profit dropped $750 million in the fourth quarter of 2013, compared with the prior year. Shedding this division will allow IBM to place more resources on revenue-generating solutions like cloud, big data, and analytics. The company can focus on more innovations, such as its recent $1.2 billion Watson initiative.

Challenges exist, of course. Customers typically don't like change -- although some fears may be allayed if they do continue working with the same individual support and sales people. Spying worries could stop some existing or new US customers from buying Lenovo-branded servers, a slide that new Chinese sales could balance, Stephen Yang, analyst at Sun Hung Kai Financial, told Bloomberg News.

"Lenovo may still face some headwinds selling servers to American institutions and corporates due to worries over counter-intelligence," he said before the announcement. "Lenovo would likely focus on growing its China market first, like they've always done with any business." The US government must approve the deal, too. The Committee on Foreign Investment in the United States (CFIUS), which is led by US Treasury Secretary Jacob Lew, reviews those transactions deemed national security issues. If organizations operating critical infrastructure -- such as telecommunications or electronics grids -- use IBM servers, then the deal most likely will undergo CFIUS scrutiny, according to BusinessWeek. The government also could be worried if IBM operates manufacturing facilities near US military sites. The committee has 30 days to approve a transaction or start a 45-day investigation.

Although IBM and Lenovo obviously thought the deal would withstand government scrutiny, CFIUS obviously takes its role extremely seriously in an age of industrial spying and cyberwarfare. The committee, for example, recently investigated Shuanghui International Holdings' acquisition of Smithfield Foods last fall.

As Jason Waite, trade attorney at Alston & Bird LLP in Washington, D.C., told Businessweek: "Congress is the wild card. If they're going to hold hearings on the sale of a sausage company -- Smithfield -- it certainly wouldn't surprise me if they're going to hold hearings on the sale of a component of IBM."

Do you think the US government will approve the deal? And do you approve of IBM's plans to shed its low-end servers and focus on other solutions and technologies? Let us know in the comments.

Related posts:

— Alison Diana



, ThinkerNet Editor, InternetEvolution