Google has a busy couple of weeks coming up. The company will likely take the wraps off a new Nexus 7 tablet this week and its Moto X smartphone next week, according to reports.
Google plans to announce on Wednesday the new version of its 7-inch tablet, the the Nexus 7, according to reports. The new Nexus 7 will run a new version of Android Jelly Bean (4.3) and feature dual cameras and wireless charging. It will go on sale July 31, according to Engadget.
The tablet comes in the same screen size as the current model and sports a pair of cameras -- 1.2 MP in front and 5 MP in the rear. The current model has only one front-facing camera. The 32 GB model will be priced at $269, according to Engadget, and the 16 GB model at $229, according to AndroidCentral.
The device will run a quad-core Snapdragon S4 Pro similar to the one in the Nexus 4. It will have 2 GB of RAM and a 7-inch 1920 x 1200 display, but no SD card slot, according to Ars Technica. The new device will have Slim Port support for playing 1080p video on TV, Engadget reports.
Google's Android and Chrome head, Sundar Pichai, plans to brief journalists about the new tablets at a 9 a.m. PT breakfast on Wednesday, according to Ars Technica.
Android Police has a gallery it claims to be images of the new Nexus 7. The most prominent difference I can see compared with the current model is that the new version lacks the silver band around the bezel. Other photos show the new device with rounded edges, rather than the straight edges of the current model, but they look very similar.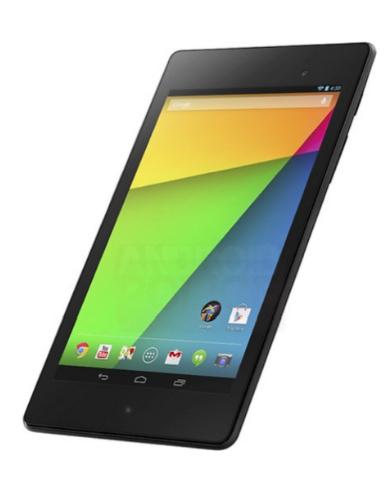 As for the Moto X smartphone: This is the jewel of Google's controversial acquisition of Motorola. The display is about 4.5 inches. It has a dual-core 1.7GHz Snapdragon MSM8960T processor, 2GB of RAM, a 2,200mAh battery, and a removable Kevlar rear shell, according to The Verge.
The phone features an always-on listening mode, which allows it to recognize commands after a user says: "OK. Google now." But that mode must be enabled in settings; the phone isn't passively listening by default. The camera opens with a wrist-flicking gesture.
I haven't discovered much about what to expect in Android 4.3. I've seen reports that point to its being a basic maintenance release with no significant new features. I'd be surprised at that, given that Google seems to be giving it a full dot-release number.
I'm looking forward to that new Nexus 7. I dropped my Nexus 7 three weeks ago and cracked the bezel. It still works fine, but I expect that will change any day now. Indeed, every time I turn it on I whisper softly, "Hang in there little buddy! Just a week or two longer!"
Related posts:
— Mitch Wagner




, Editor in Chief, Internet Evolution