With its 4.2 million square feet of space and 20 million guests annually, it wasn't easy for MGM Resorts International to set up public WiFi at its high-end properties in Las Vegas. But public WiFi isn't just a convenience to customers; it's an important customer service and marketing channel.
MGM offers WiFi at the Bellagio, Mandalay Bay, Mirage, MGM Grand, and Aria resorts, its luxury brands in Las Vegas. It plans to roll out WiFi at its other Las Vegas properties, which include New York-New York, the Luxor, Excalibur, and Circus Circus.
At the Bellagio, the flagship resort for the WiFi initiative, MGM delivers a hotel-specific mobile app with location services that tell visitors where the action is. For example, marketers might send out a message suggesting that visitors stop by the hotel's Fix restaurant and bar. "We're trying to educate people what to do," John Bollen, senior vice president and chief digital officer for MGM Resorts International, told me at the Interop conference and expo at the Mandalay Bay.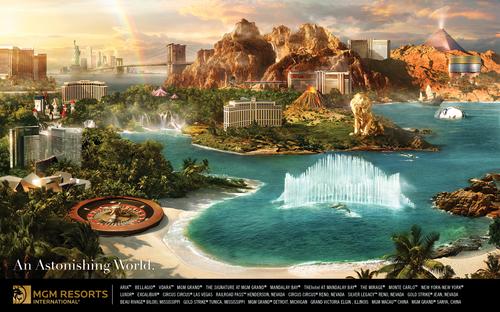 The app features an interactive map with a blue dot that shows the user's location. The map can provide walking directions to locations in the hotel. "We want you to see all our products and services," Bollen said. "That's basic marketing."
Once the WiFi and app were in place, MGM's business units began to take advantage of the opportunities. "All our restaurants wanted to have a wine application," so the app recommends wine pairings with food. "Now that the restaurants have WiFi, they can do that."
There's a lot of demand for the WiFi service, Bollen said. Guests bring multiple devices with them and want to connect with all of them. The Aria resort can accommodate only 4,000 guests, but it has to handle 9,000 IP addresses.
"We needed to be sure to have a good network design, not just throw up access points. We have a lot of things around our properties that radio signals don't like." For example, one hotel's pool area has a lot of juniper bushes. Their stems collect a lot of water, which blocks WiFi signals. Rotating stages are also problematic.
The chain offers low-bandwith 256Kbps up-down connections throughout its properties for free; higher-bandwidth connections are available for a fee. Business users will gladly pay for the higher bandwidth, and journalists in Las Vegas on business need that higher bandwidth for things like streaming video coverage.
Network management tools are made for IT managers, but marketing and customer service staff often find the information useful. For example, "dwell times" -- how long users spend at a particular location -- can tell a hotel which of its facilities are most popular.
The mobile apps are great channels, but they also create more work for the marketing department, Bollen said. Until recently, marketing had three channels for reaching customers: mail, email, and phone. Now marketing also has to juggle texting, social media, apps, and more, and it hasn't gotten more staff to compensate for the increased workload. In each of those channels, somebody has to sit and decide what messages to send out.
In the future, MGM hopes to add more guest services to the app. Basically, it wants to take the things that guests can do in their room and make them mobile, including ordering room service, wakeup calls, and even -- in a few years -- watching in-room TV. "All of those services, now and in the future, require WiFi."
And it's all strategic for MGM. That's why it built its network in-house, using equipment and services from Cisco, rather than relying on telcos to provide mobile bandwidth. "We're not relying on other people to provide our guest services."
MGM measures success through several metrics:
Convention reservations are rising. Convention organizers like the fact that WiFi is available, not just in the hotels and convention center, but throughout the properties.
Conventions buy upgrades to get more bandwidth.
Guest complaints about WiFi have been vastly reduced. One common complaint was that guests had to buy WiFi in multiple locations, but that is no longer necessary.
I can personally testify to the convenience of MGM's WiFi. On my way to my meeting with Bollen, I sat and checked email on my tablet, using WiFi available to me as a Mandalay Bay guest, even though the hotel convention center is far from the hotel proper. I used WiFi in multiple locations throughout the hotel and convention center. The whole process was invisible to me as a guest, and I didn't think twice about the work that went into making it transparent.
The WiFi service rolled out quickly, beginning a year ago and concluding late last year. The fact that the service is owned by the marketing group, rather than IT, was key to getting the job done.
"They were really excited about it. Marketing sees WiFi is a differentiator," Bollen said. "Every time we turn around, good things are happening because of the availability of WiFi. It was a hard thing to do, but it's worth it."
Do you offer WiFi to customers on your campus? How's that working out for you? Let us know.
Related posts:
— Mitch Wagner




, Editor in Chief, Internet Evolution