IBM's supercomputer Watson is getting a chef's toque.
Well, if a rat can do it. I'm reminded, you see, of Remy the rat in Ratatouille, probably the best movie about life in a professional restaurant kitchen ever made. Remy, inspired by the spirit of the great deceased chef Auguste Gusteau, painstakingly teaches himself to cook -- at the very highest level.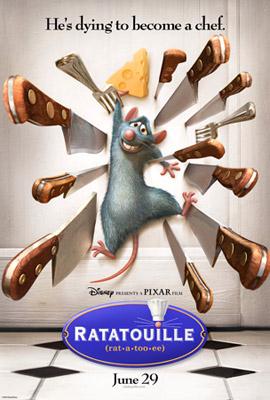 And it's not easy for a rat, manipulating those huge pots, stirring the stocks, peeling the potatoes. Some of this, I'm guessing, can't be easy for a computer, either.
In fact, we're not going to see Watson working the line, as the expression goes. Not even doing the dishes. What the self-educating cognitive powerhouse can bring to the party is skill in creating recipes.
This is related, of course, to the sensory possibilities being developed in the cognitive computing field, as explained in our new Web Wise World tutorial. Watson's capabilities will be previewed at its Almaden Research Center today:
The uses it will be showing off to Wall Street analysts... include helping to develop drugs, predicting when industrial machines need maintenance and even coming up with novel recipes for tasty foods.
Watson has collaborated with an instructor from Manhattan's Institute for Culinary Education and come up with a pastry called a Spanish crescent. Utilizing its database of 20,000 recipes, together with chemical information on ingredients and data on subjective preferences, Watson decided the pastry should contain "cocoa, saffron, black pepper, almonds and honey."
Not sure about the cocoa there, but I have a dollar that says it's going to look like a croissant.
Now these are clearly baby steps. The human chef played the not insignificant role of adjusting the proportions in the recipe and actually making it. Maybe he took the cocoa out. Skeptics might argue that a human cook just doesn't need that much data to come up with a honey and almond breakfast pastry.
Watson the chef has some catching up to do, too. Allrecipes, reputed to be the world's largest online recipe database, lists ingredients and preparation steps for more than 4,000 dishes. I'm no more than a decent home cook, but it took me two seconds to think of a classic recipe it doesn't list (brains in black butter, yum). Watson may have been fed 20,000 recipes, but with professional chefs under pressure to conjure new marvels all the time, that's probably a fraction of what's out there.
And with combinations like these already available, novelty is a tall order, too:
Hanger steak, egg, cocoa, melba
Flatiron steak, mushroom jerky, grapes
Sweetbread, burrata, purple potato ice cream
Those are all real dishes from current New York restaurant menus.
In fact, what we need to do is keep reminding ourselves that we're on the brink of a new age in computing, and how far we've come. From the fallible chess-playing computers of the 1970s to IBM's Deep Blue beating Gary Kasparov in 1996 was a long haul. Today we're talking about computers that can actually interact with their environment and teach themselves by doing so.
I don't know how soon we'll see Watson itself pop a cake in the oven, but I already trust it more than a rat. Sorry, Remy.
Related posts:
— Kim Davis
, Community Editor, Internet Evolution