Here in the IT industry, we love our technology trends and clichés. Here are the ones we love to hate the most.
The magic powers of BYOD. The vision: Just let our employees bring in their own personal smartphones and tablets to work. IT doesn't have to pay for or support the devices. High fives for everybody!
The reality: Users are still going to come to IT for help when they can't do their jobs. They'll want to access business information on their personal devices, bringing security risks and regulatory exposure. And instead of supporting a small number of approved corporate devices, IT ends up supporting every type of device an employee might have found under his Festivus pole.
It's not such a sweet deal for employees either -- they have to pay for the devices that their employers previously provided for them, and their family photos and personal media start looking like company property.
BYOD has benefits. Employees enjoy the freedom to choose their own technology, and they don't like having to carry two devices, one for work and one personal use. But there are still many practical issues to be worked out.
The miraculous cloud. People used to be warned about building castles in the clouds. Now, companies build datacenters there instead.
The promised benefit of the cloud looks a lot like BYOD: Instead of having to manage company servers, datacenters, and data, just sign a contract with the cloud vendor and your problems are solved. Can we try that high five thing again?
The reality is that the cloud brings its own problems. IT needs to be sure that the data in the cloud is secure and available to users when they need it. The cloud really does have many benefits; it's great to have a highly elastic infrastructure, to be able to easily scale to meet business needs, and to have specialists overseeing data and applications. But cloud brings problems, too, and requires specialized IT skills. It even requires insurance.
The importance of social media listening. Hundreds of millions of people use social media sites like Facebook and Twitter. Much of that conversation involves products and services. Companies that still don't understand the value of participating in those conversations deserve the financial disasters that await them.
Gamification takes the premise that people like games, but they hate their jobs, so if you make their business software more like a game, people will love their jobs.
There's a kernel of truth here. Games often involve activity that looks a lot like work, such as planning and calculating benefits and risks. Gamers talk about "grinding" to "level up," which certainly sounds a lot like working diligently at a tedious job to earn a promotion. We've even heard of World of Warcraft guilds that hold meetings.
Some jobs, like working on a help-desk, require a lot of training but are also tedious, making turnover an expensive proposition. If you can make the job a little more fun, and reduce turnover by a little bit, the business benefits can be significant.
But that's not what gamification means to software vendors. They just add stupid badges to the same stupid software people have always used to do their jobs. If your job is scrubbing public lavatories, getting a badge for it doesn't make it nicer.
The threat of showrooming. Showrooming isn't a threat. The customer is in your store. She is holding the product in her hands. She wants to buy it. If you can't convince her to buy the product now, rather than go home, go online, find the product, order it, and wait for it to be delivered, you don't deserve to make that sale.
The magic ingredient that will save retail is customer service and salesmanship. These are dying arts for American retailers, which would rather hire surly teenagers and pay them minimum wage (which is why they're surly) rather than invest in good salespeople. If you want to learn how to beat showrooming, go to the nearest retirement home and find someone who worked in sales in the 1950s; they can tell you what customer service used to be about.
Also, follow the example of companies like Best Buy and Nordstrom, which are working to make online and retail work together.
What IT clichés are you fed up with? Let us know.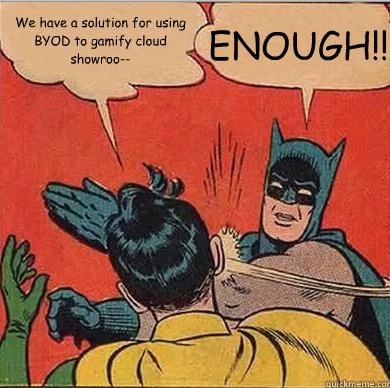 Related posts: