Twitter and Instagram lit up on Monday as Hurricane Sandy hit the Northeast. Social media were filled with emergency services information, photos, and comments.
Some of the tweets were poignant:
Others were funny:
People published striking photos like this:
This widely retweeted photo turned out to have been taken last month:
It's one of several fake Sandy photos making the rounds on the Internet. But the guards were still at their posts at the Tomb of the Unknowns Monday afternoon.
Reddit set up a /r/Sandy forum, mostly used for entertaining discussion and funny pictures.
But social media haven't been just used for chitchat. They're emerged as a leading source of breaking news during national emergencies and events. In that spirit, The Washington Post published a guide to using Twitter without Internet access, sending and receiving messages via SMS instead.
Twitter set up an events page for the hurricane: #Sandy, for users to monitor tweets about the event.
The National Oceanic and Atmospheric Association (NOAA) is providing updates on its Facebook page, as are the US National Weather Service and The Weather Channel.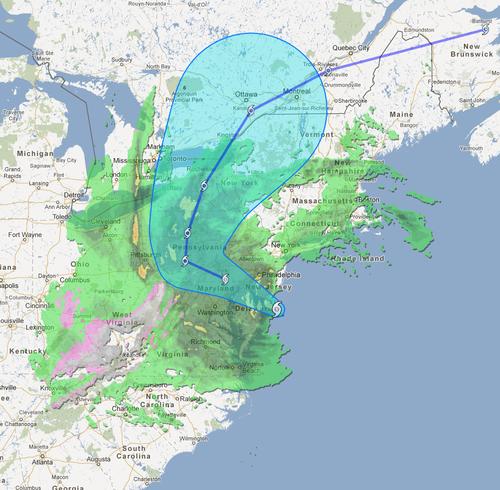 And AccuWeather is running a Google Hangout discussing the forecast.
What are some of your favorite Sandy-related discussions, comments, and photos? Have we missed any great sources of information? Let us know.
Related posts:
— Mitch Wagner




, Editor in Chief, Internet Evolution