Earlier this month, over Mother's Day weekend, I rode my ox back to my homeland of Queens, New York, where I visited a frozen yogurt place with my family. When it came time to pay, I took out my credit card, and the cashier took out his iPhone, swiping my Visa with his Square attachment.
"Wow. That's so cool!" his teenage daughter cooed, as the man showed me he could simply email me a receipt from his phone if I wanted him to (I didn't).
Leaving the yogurt place, my cousin turned to me and ranted: "So cool? Oh yeah, great, I'm thrilled to have some stranger swipe my credit card with his phone. That's comforting." We then got into a conversation about digital wallets and mobile payments in general. As a 28-year-old male with a smartphone of his own, he expressed total lack of interest, if not disgust, for the future of these techs. He joked that he imagined accidentally racking up purchases simply by walking too close to items with his smartphone in his pocket.
Maybe you think my cousin's a luddite or his fears are misguided. (Hey that's my cousin you're talking about!) But a recent poll on Internet Evolution would suggest he's not alone in feeling uninterested in a digital wallet-y future. Responding to the question, "Do you see yourself starting to use a digital wallet in the next 12 months?" here's how nearly 100 Internet Evolutionaries responded: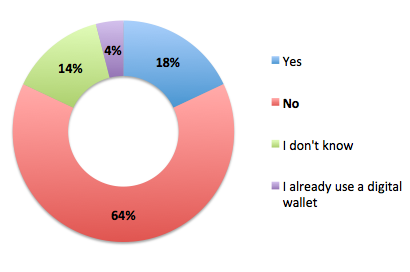 Mind you, our poll respondents on Internet Evolution are tech-savvy and often early adopters, so if 64 percent of our poll-taking users are opting out of digital wallets for the next 12 months, it's probably safe to say that the great majority of average users are as well.
We speak of this just as the digital wallet market is warming up. Visa and MasterCard have both launched services this month, V.me and PayPass Wallet Services, respectively. (Take a look at MasterCard's PayPass Wallet Services promo video below.)
Then there's Google Wallet, which has been around for about a year and has made the news largely because of security flaws.
In a recent blog post on Internet Evolution, ThinkerNetter Robert McGarvey wrote that Apple will need to get into the digital wallets game before that space takes off. Maybe he's right, and Apple's presence would help, but there are many other issues here: Security is an obvious one, though MasterCard will tell you these digital payment systems are more secure.
Other issues: Digital wallets aren't yet universally accepted; and, no matter what the PR folk tell you, swiping a cellphone is no easier than swiping or tapping a credit card. So, why bother?
To be sure, I requested the opinion of everyone's favorite mobile enthusiast Alan Reiter, who told me that the mobile payments and digital wallet industry is still in "fetal stages":
It's still forming as numerous players establish technology platforms, applications, and partnerships. This is the year of jockeying for power and trials to determine if Americans will want this. I suspect mobile payments will succeed only if it includes a wide range of valuable features, such as integrated product discounts, loyalty points, and location-based offers combined with ironclad security.
In other words, we are a long way off, culturally and technologically, before digital wallets and mobile payments catch on. They may be the future, but they're definitely not the near future.
Related posts:
— Nicole Ferraro,
, Editor in Chief, Internet Evolution