I received an email this morning from Internet father Vint Cerf complimenting me for doing something "amazing" this year.
Of course, I wasn't the only one. It was a mass email sent out from Cerf (or at least his account) to anyone who signed Google's petition against SOPA and PIPA in January. And it wasn't merely congratulatory. Cerf was writing to acknowledge that what we did that day, standing up for the Internet we so adore, was great. But we must do more.
Writes Cerf in the email:
It's time to start a new chapter in our Internet conversation -- one in which we come up with positive and proactive plans to drive constructive Internet legislation in countries around the globe.
Sounds great! What's the next step?
To begin with, let's discuss how much the Internet has empowered us. Complete this sentence:
"The Internet is the power to _________."
What? Fill in the blanks? How is this our way of coming up with "proactive plans"?
Cerf's wisdom:
Our combined discussions about the importance of the Internet will remind legislators around the world that the web isn't like all the other things governments regulate... It's an organic collection of diverse communities whose shared conversations are making the world a better place.
Oh. I get it. Perhaps Cerf is just confused. Maybe he thinks legislators and lobbyists actually care about the fact that the Internet is important and, particularly, that it's an important place for communities and conversations. He must think they don't realize these things, and once we remind them, they will weep and crumble like some reformed bunch of Ebenezer Scrooges, and they'll stop trying to ruin the Web for their own selfish reasons.
Anyway. Cerf's email is accompanied by a link to www.google.com/takeaction/start-something, where users are encouraged to "Complete the sentence, 'The Internet is the power to...' and share it using the tag #OurWeb" on Google+, Facebook, and/or Twitter.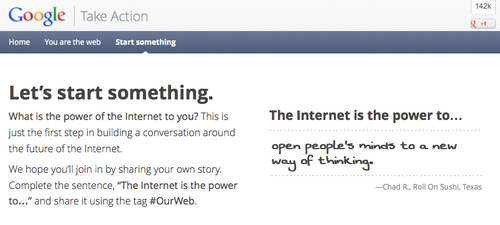 From what I can see on Twitter, the #OurWeb thing is getting some attention. That's unsurprising. As we've discussed before, people love engaging in positive efforts that take the least amount of effort. But, OK, fine, it's heartwarming to see people banding together. There's certainly nothing harmful about tweeting #OneWeb. So go hashtag-wild.
Furthermore, Cerf is right about one thing: As we've stated before on this site, stopping SOPA/PIPA was just a baby step in this battle. Resting on laurels isn't an option. The sponsors of SOPA and PIPA haven't seen the errors of their ways. Rather, they've vowed to come up with different legislation with the same goals. Cary Sherman, the RIAA's chairman, declared that he hopes the protests against SOPA were a one-time thing. And the RIAA has said it will work together with ISPs starting this summer to spy on people's Web activity.
In other words, the war isn't won. And Web users and evangelists definitely do need to keep the fight going against those lobbyists and lawmakers looking to turn back the clocks on technological progress.
But let's get real here. Using social networks to spread sentiments like The Internet is the power to create a world of our own, or The Internet is the power to put ideas into action, does nothing to change the minds of "legislators around the world."
Nevertheless, as Cerf says in his email, this is the beginning of the conversation. Let's hope what comes next in this crucial fight for the future of the Internet is more active than it is sentimental.
Related posts:
— Nicole Ferraro
, Editor in Chief, Internet Evolution