If you scored tickets to the Super Bowl, we have bad news for you. You can't stream video into the stadium. You're stuck watching the game live. Oh, the horror.
Fans who make it to MetLife Stadium in New Jersey to watch the Super Bowl live on Sunday can use their mobile devices to check stats, share pictures, tweet, post to Facebook, and more, using the stadium's WiFi and cellular networks. But one thing they can't do is watch streaming video replays.
The problem is bandwidth, NFL CIO Michelle McKenna-Doyle told Ars Technica. The NFL is planning to block live streams of the game inside the stadium from NFL.com and Fox sports websites.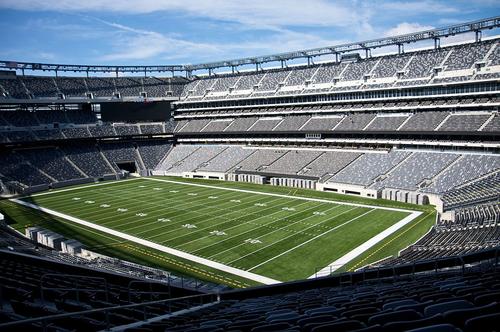 At last year's Super Bowl, streaming was allowed initially but eventually blocked to save bandwidth. "We [blocked] it last year, but we did it on the fly when we started having some challenges. This year we planned ahead to do it," McKenna-Doyle told Ars.
The 82,500 seat stadium will be able to handle 25,000 and 30,000 concurrent Internet users on cellular and WiFi. Verizon will lead the WiFi and cellular buildout. The NFL would not disclose anticipated speeds in deference to Verizon, which is leading the WiFi and cellular buildout. The NFL plans to prioritize upload speeds over download because fans will be more interested in posting photos and statuses to social media. McKenna-Doyle said:
While we do know that people like to look at replays on their phones and there are some people who like to stream certain amounts of video in the game, the vast majority of our fans want to watch the game on the field, watch the replays on the jumbo board, and participate in the event more than they want to be checking their phone. While we could have made some of that available, it might have impacted the ability for the majority of the fans to be able to stay connected to social media, tweet, Facebook, that kind of thing.
Last year, a mid-game power outage struck the Super Bowl, but the WiFi network stayed up. Some fans said WiFi access was tough it times, but a broadcast engineer told Ars that bandwidth was 23 Mbps down and 44 Mbps up.
This year's WiFi network is open to all fans, with about 900 access points, using Cisco equipment running the new 802.11ac standard. Verizon's Internet connection is about 4 Gbps into the stadium. All four major carriers invested in upgrading their Distributed Antenna Systems.
Fans will also receive a radio for audio feeds from Fox, Westwood One, ESPN Deportes, and the in-stadium public address.
"So, I guess those few users who were hoping to steam Downton Abbey during SuperBowl XLVII will be out of luck," quipped GottaBeMobile.com.
Also, Electronic Arts used its Madden 25 videogame to simulate Super Bowl play, and predicted the Broncos as the winner. EA says the Madden NFL Super Bowl prediction has been right eight of the past 10 years -- impressive, but don't bet the mortgage.
EA posted a highlight reel:
Related posts:
— Mitch Wagner,

, Editor in Chief, Internet Evolution