In this increasingly digital world, customers are shopping with multiple devices, across multiple screens, both in-store and on the go. As digital shopping becomes more and more complex, companies must adapt to successfully engage with the new, connected customer and accurately identify what customers want, when they want it, and where they want it.
At wehkamp.nl, we've secured our position as Netherland's leading online retailer by catering to our customers on a more sophisticated and personal level by focusing on the customer experience. In order to effectively provide a premier customer experience, we needed a way to learn our customers' preferences and meet their individual demands as quickly as possible and at any given time. With help from technology vendors such as IBM, we are creating a unique, customer friendly digital marketplace that delivers personalized messages to each customer, providing them with the products specifically tailored to meet their shopping needs. (IBM is sole sponsor of Internet Evolution.) As a result, we saw more than 122 million visitors to wehkamp.nl and sold more than 15.6 million products in 2012 alone.
Like most retailers, we have a variety of channels to consider -- websites, phones, tablets, and we are even investigating Smart TV apps and Google Glass. Right now, as a strictly online retailer we prominently focus on our website and mobile channels, specifically tablets as they have generated 25 percent of our revenue over the past three years, to engage with our customers and drive revenue. It's crucial retailers understand a customer's buying behavior on various channels in order to provide the best possible experience. In fact, a recent study showed 89 percent of customers will choose to do business with a competitor following a poor customer experience. Leveraging IBM analytics, we've been able to not only understand customer browsing and shopping history, but gain insight into exactly how customers are viewing our pages and where they run into road blocks. With this information, we built customer profiles that go beyond the simple demographics of gender and age and instead focus on what each customer truly wants. From the profiles we can create relevant customer messages, as opposed to bombarding customers with unwanted notifications and wasting valuable time and resources on generic customer communications and promotions.
The power of data and analytics helps us meet customer needs, but it also helps us successfully achieve a high product turnover rate and make sure we are always stocked with up-to-date fashion options. As an online retailer, our customers tend to purchase multiple sizes or styles of a product so they can determine which size fits at home and then return the other items that do not fit. This creates a challenge when we are tracking the amount of merchandise inventory we have to mark down and add to clearance because we can be inundated with returns. Through a Smarter Commerce approach, we can apply analytics to the markdown process, ensuring we sell end-of-the-season inventory in the most effective way possible. We can properly apply markdown prices to our inventory and make room for new products, while still making sure our customers don't receive premature "out of stock" messages.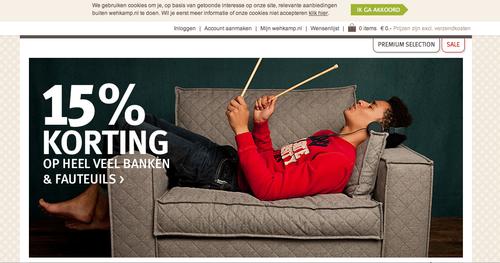 Combining these cloud-based analytics and best practices, we've seen a 271 percent higher sales-per-send ratio for marketing emails, including a 23 percent higher open rate and a 68 percent higher click-through rate, and a 500 percent increase in the click-through rate for banner ads.

As an online retailer, we realize the importance of taking a holistic approach to our marketing campaigns and providing our customers with the right products, at the right price, through the right online experience. By taking advantage of IBM's cloud suite of marketing and merchandising solutions, we are able to view every customer as an individual and offer them personalized offers for the right product, through the right channel and at the right time -- ultimately providing an interactive and positive online shopping experience for our customers.

Related posts:

— Alexander van Slooten is marketing director of wehkamp.nl, the largest online retailer in the Netherlands. He is responsible for the marketing strategy and is the head of the marketing department, which encompasses Internet marketing, email marketing, and marketing intelligence. His marketing responsibilities also include the Web development department; this team builds and maintains the e-commerce platform. Before his career at wehkamp.nl, Alexander worked at Veronica and SBS Broadcasting, where he was responsible for all new media activities. Alexander graduated in Company Law at the Utrecht University and, since 1997, is active in the Internet/new media branch.