Social networking sites and search engines continue to hone the tools they use to help advertisers spread their messages, measure results, and avoid fraud.
Across all media -- including TV, print, and web -- buyers purchase most ads on a cost per thousand (CPM) basis, or in recent years, on a cost per click (CPC) basis. Now, Google and Facebook have introduced new ways to pay only for results.
Brands only want to buy what works. After all, 50,000 cars may drive by a billboard, but the seller has little data on how many people actually read the ad. The same concern often surrounds web-based ads. Since many are now sold via CPC, this approach would seem to solve one problem: Surely only those who are interested actually click on an ad?
CPC, however, set off a bit of an arms race with cheaters and fraudsters. Some companies set up pages upon which they ran ads from a network and then paid people or created bots to click on the ads. There are all sorts of related frauds, such as ad injectors and stacking unwanted sites, wrote John Battelle. Although Google, Facebook, and Twitter are not immune to concern, it's one reason I recommend smaller businesses stick with blue ribbon services like Google Adwords, Facebook's ad system, and those from other major players like Bing and Twitter. Yet even those services are not without controversy.
CPM represents advertising at its statistical core; if you buy enough eyeballs you can drive enough demand for your product or service. Media buying is largely statistical: x people at y price. CPC was the next level. Now both Google and Facebook offer CPA -- service that has nothing to do with your taxes.
On Facebook, CPA stands for cost per action; on Google it's cost per acquisition. The meaning is largely the same. CPA is a tool for advertisers who are willing to pay for results. If a brand will pay 50 cents per "Like" on Facebook, than they can bid or buy Likes from Facebook on a CPA basis. On Google it is typically an action on your website, like entering the sales funnel. If you have an inbound call center, an acquisition could be triggered by a phone call. CPA puts the onus on Facebook and Google to really data mine their user communities to target the best-suited recipients. Google calls its system Conversion Optimizer.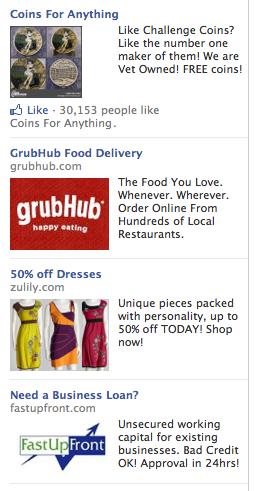 Google's CPA ads can be set by either a maximum dollar value -- meaning you may pay less -- or an average value -- meaning you will pay more but it will balance expensive and cheaper acquisitions to achieve the desired cost. Averages are calculated on a 30-day basis so you may pay more or less if your campaign doesn't run for an exact 30-day period. Facebook offers only a direct charge per action. These ads are currently only available via its API, and there is a major causality issue. When a person is shown an ad on Facebook encouraging them to like your page, Facebook will charge you the fee if the consumer likes your page within 24 hours of seeing the ad. If you are running an integrated campaign consisting of TV and Facebook ads, even though the TV ad may encourage a consumer to like your page, you can still end up paying Facebook. Brands can buy Facebook CPA for likes, link clicks, and ďoffers purchased.Ē In fairness, however, it can take people a while to take an action and people might need to see an ad several times -- even a dozen times -- before they act or purchase.

While I value likes as a measure of entanglement, the real power here is using these methods to buy sales. A business that knows its cost of customer acquisition and the long term profitability of a new customer can safely bid from several dollars up to a few hundred dollars. If I was selling yachts, I would bid at least $5,000 -- not that people click on an ad and use a credit card to buy a mega yacht from a website. CPA should work well for any online action including buying or selling, signing up for a service, or visiting a web page for the first time.

It's important to understand that using CPA, especially as offered by Google, means some integration between your website and Google. If you are already using Google Analytics you are most of the way there, as these examples demonstrate. The CPA system requires a tighter integration between network sites and brand sites. The data exposed to ad networks is valuable but it's worth the exposure if brands can start treating online selling more like catalog sales -- with known costs to acquire and profit from new customers or reactivate existing customers.

Related posts:

— Harry Hawk , operations and marketing manager at Leske's Bakery, also provides interim social media and digital marketing leadership to Momentum Machines. Hawk is co-creator of the New York City, Chicago, and Charleston food film festivals. Find Hawk on Facebook and Twitter, or email him at habs@panix.com.