We've all seen Doppler radar on our favorite weather forecasts. Now Doppler is merging with location analytics and social sentiment in the form of Social Doppler, a new way of conducting mobile marketing.
Developed by GCS, Social Doppler is specifically designed to help marketers know when, where, and how to best advertise to potential customers. It targets the optimal time and location at which marketers should send advertisements to customers' mobile devices in order to stand the best chance for conversion -- i.e., sales. Social Doppler leverages big data, social media, geospatial, and location analytics to help marketers better reach their target audiences, increase the number of potential customers coming through a store's doors, and, ultimately, grow that store's sales rates.
As its name suggests, Social Doppler imitates Doppler weather radar, but for social media and mood mapping. GCS created an automated cloud-based geospatial solution that essentially mines real-time Twitter data and creates maps of how people are feeling across a study area. The solution develops study areas around each store or business that uses Social Doppler. In GCS's recent webinar it was very interesting to see that moods appear to move through crowds akin to how clouds move through the atmosphere. Moods tend to form in a centralized area and then diffuse and dissipate over time.
The solution determines shoppers' moods through sentiment analysis of real-time Twitter data streaming from people tweeting within the boundaries of the study area. In addition to real-time mood mapping and monitoring, Social Doppler also considers the demographics of the regions within the study area. By combining, analyzing, and tracking this data, marketers gain valuable insights into the favorability of advertising conditions in the area surrounding a store. Retailers can then use these insights to develop highly targeted mobile-device advertising strategies and can send offers via SMS, Twitter, or email to potential customers in a favorable mood.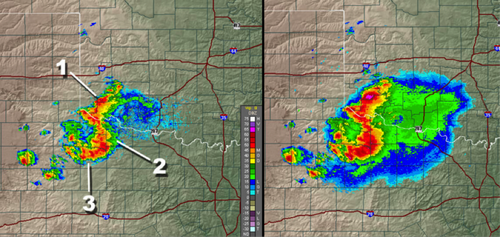 In the era of big data, agility and iterative design processes are imperative to the success of any geospatial solution. The live web mapping and geospatial analysis of burgeoning data streams takes tenacity. When hired by a store, GCS first creates a brand competition map by which the retailer can view and analyze comparative statistics between competing brands. Then GCS consultants examine the demographics of the study area surrounding the store. Through demographic analysis GCS provides marketers with better insights into how to reach their target audiences by providing them with population counts, age, race, profession, income range, and other detailed information about people living in the different sections of town from which tweets are sent.

GCS consultants then execute proprietary spatial and non-spatial algorithms against sets of real-time geolocated Twitter data. These algorithms allow for on-the-fly extraction and analysis of large volumes of social data to perform text parsing, sentiment analysis and mapping, polygonization, cluster analysis, and tabular data analysis in order to determine statistically significant regions of positive or negative sentiment within the study region. GCS has developed a particularly elegant clustering algorithm that maps sentiment in real-time, over extended time intervals, to create a better picture of the customer base and of what is happening within the store's study area over time. Sentiment mapping is very similar to Doppler radar weather mapping, except instead of mapping weather, the GCS algorithms map statistically significant trends in culture, social networking, and sentiment of the people within a given study area.

What GCS is doing here is big, real big. Quietly, behind the roar of the big data hype, there is a race going on in the world of location and big data analytics. Even ESRI, a giant in the geospatial industry, has not yet launched its social mapping tools and when it does, ESRI's out-of-the-box solution will require manual processing. While it is incredible to think that Social Doppler could potentially protect small and large businesses from wasting hundreds of thousands if not millions of dollars in ineffective marketing, the implications go far beyond a simple boost in marketing ROI.

Social Doppler represents a breakthrough in the difficult problem of harnessing real-time geotagged social data streams to solve business problems of all kinds. Even in crisis mapping, where mappers have been manually carrying out similar social mapping analyses for the last four years, the workflow is yet to be automated. It must be automated for the intelligence to be real-time. Models that support Social Doppler automate everything -- data handling, analysis, mapping, statistics, and time-series event tracking. Social Doppler is pivotal because it is a window into a new era where businesses will harness powerful real-time spatially referenced insights about their customers to respond with immediate solutions that boost both customer satisfaction and company earnings.

Related posts:

— Lillian Pierson is a data analytics engineer at Orange County Government, Fla. She also specializes in environmental engineering, GIS, world travel, tech journalism, and would-be digital humanitarianism. You can follow her on Twitter at @BigDataGal