Understanding social graphs helps us to form better social strategies by informing us who the key players are and how they function.
I recently watched a video by Valdis Krebs about Data and Patterns on the WWW. In this video Krebs discusses social network analysis (SNA), how to perform SNA, and how to make sense of information gleaned by a social graph: "Common wisdom in personal networks is 'the more connections, the better.' This is not always so. What really matters is where those connections lead to -- and how they connect the otherwise unconnected."
Krebs suggests that we strategize to place ourselves as critical nodes between people with whom we share similar interests so we can act as a social bridge, broker, or network facilitator.
Creating and deriving meaning from a social graph
In this digital world of hyper-connectivity, we are fortunate to have free online automated tools that can produce on-demand graphs of our social networks. For Twitter, a great SNA tool is the Twiangulate map. For LinkedIn SNA, we have LinkedIn Maps. From these social graphs, or "maps," we can easily develop our social strategies. Krebs has suggested some key metrics for social network analysis we should examine:
Degree centrality. A measurement for the number of connections an entity has within its network and the extent to which those connections are mutual (for example, "both follows and follows back" in Twitter terms).


Betweenness centrality. A measurement for the number of times that an entity functions as a bridge between two connections. An entity will score higher the more it connects otherwise unconnected key players, clusters, or sub-clusters within a network.


Closeness centrality. A measurement of the centrality of an entity's placement is within a cluster, its closeness to other connections, and the types of connections the entity maintains. Entities with many incoming connections and few mutual or outgoing connections generally have higher closeness centrality values.
Forming social strategy from a social graph
To study my position within the network cluster related to "digital humanitarianism," I used Twiangulate to produce a social graph of the network between myself and the known digital humanitarian leaders Patrick Meier and Jake Porway. Using the metrics that Krebs suggests, I simply selected my entities visually by looking at a full-scale view of the graph. Then I zoomed in to spot-check the "Closeness Centrality" metric and make sure I did not miss any important entities in the crowded center of the cluster.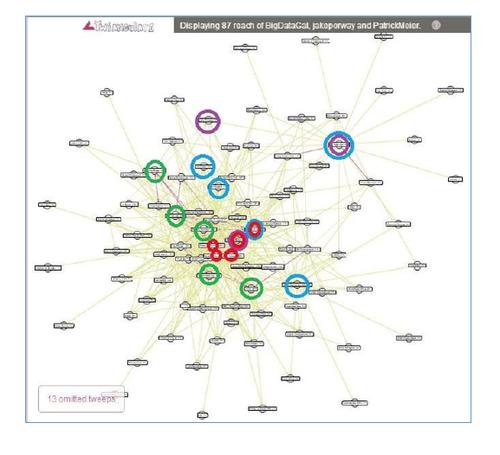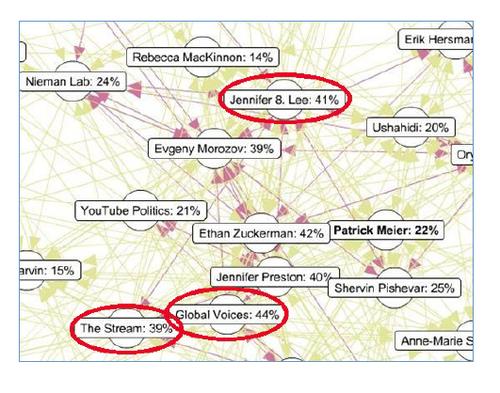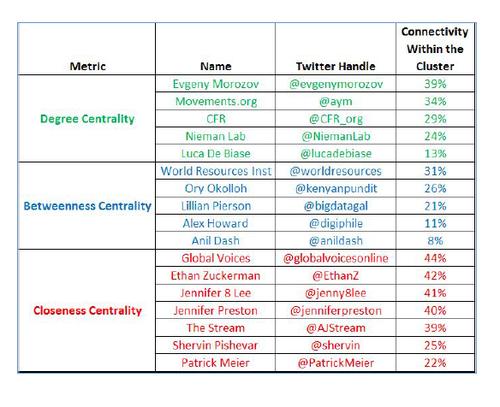 Degree centrality: The entities that demonstrate a high degree of centrality are effective facilitators within the digital humanitarian cluster. They have lots of two-way connections and act as go-betweens to facilitate conversation. When I build relationships with these entities, it is highly likely that I will be introduced to all sorts of interesting people with whom I would like to communicate. I will keep an eye out for this.
Betweenness centrality: The entities that demonstrate high "betweenness" of centrality act as connectors between the digital humanitarian cluster and other clusters in the Twitter network. They facilitate the necessary flow of new information to and from the digital humanitarian cluster. I will look to them for helpful new information that can improve my work as a digital humanitarian.
Closeness centrality: The entities that demonstrate high closeness centrality are the broadcasters -- the core members of the digital humanitarian cluster. They are the people I'll turn to for the latest happenings in digital humanitarianism. They are leaders of the cluster in which I am interested.
If you get time to play with Twiangulate, please let me know what you discover. How will this knowledge change your social strategy? Do you have previous experience with social graph analysis? What other types of insights can be generated here?
Related posts:
— Lillian Pierson is a data analytics engineer at Orange County Government, Fla. She also specializes in environmental engineering, GIS, world travel, tech journalism, and would-be digital humanitarianism. You can follow her on Twitter at @lillianpierson