It's been close to 20 years since IBM unveiled Deep Blue, the brilliant computer that beat world chess champion Gary Kasparov in a six-game match, and two years since IBM Watson won Jeopardy!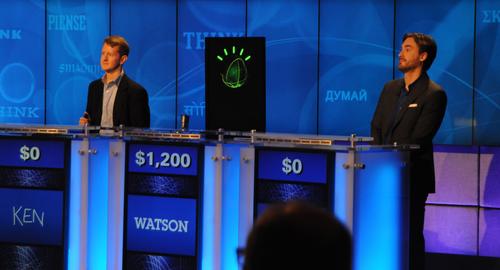 On its face, the difference seems incremental and simplistic: IBM (which sponsors Internet Evolution) wrote another piece of software that won another game. So what?
Here's something: Chess is a fixed-board system with defined moves. IBM's team of engineers worked on the project for more than a decade, since Fenghsuing Hsu began on it as a graduate school project. In order to win, the Deep Blue team needed to program the computer between rounds of chess. Personally, when I saw the write up, I thought of it more as IBM's programming team vs. Kasparov.
It also wasn't much of a win. In the second part of the competition, the software made a mistake in round 44 due to a bug. Kasparav couldn't figure out why it had made the move, which appeared foolish, and thought he was missing something. This caused Kasparav to lose confidence, the match, and eventually the game.
The Jeopardy! story, on the other hand, makes the hairs on my neck stand up.
On the other hand, the game of Jeopardy! is unbounded; it is based on English. To play the game, you need to have access to a vast subset of human knowledge and be able to retrieve it quickly, plus you have to understand complex idioms, like "break a leg," "in the dog house," or "piece of cake."
In order to play, IBM built a super-computer with 90 servers and 16 terabytes of RAM. The company wrote an entire operating system called QA, which is short for question answering. What it does is sort of like Google -- reducing your question to essentially a search query, then looking for answers that are most likely and have the highest amount of credibility.
That makes me wonder: What's going to happen when someone hooks this thing up to the cloud?
Turns out that's already happened: IBM's Watson Service is available as a cloud-based web service, which means for a few pennies you too can solve any research problem on the planet.
The structure is still somewhat limited. Watson needs plain-text questions, and got most of its power in Jeopardy! from hitting the buzzer first.
Siri
Around the time IBM was playing Jeopardy!, Apple was building a digital assistant that could answer questions and putting it into the iPhone 4s. With Siri, your voice request is sent across a wireless connection to a server that retrieves the answer for you. Siri can find you a local restaurant or create an appointment for you, but Siri's question answering is limited to what Google can tell it.
Consider Siri the front-end and Watson (as-a-service) as the back-end, and suddenly we can get answers to powerful questions without any hoops. In other words, no programming.
Assume you have this power in your phone, right now. What would you do with it?
I suspect the next 10 years of Internet evolution just might have something to do with artificial intelligence. How about you?
Related posts:
— Matt Heusser is principal consultant of Excelon Development.