Every year at this time, each of the nation's retailers writes Santa a lengthy note, telling him how good it has been and how it deserves a really special Christmas. Recently, Saint Nick hasn't been reading those notes closely.
Holiday sales numbers haven't been quite what retailers have hoped to see. This year may prove to be more of the same. But where retailers do seem to find hope is in the notion that online sales, and mobile commerce in particular, will play a big part in this year's festivities.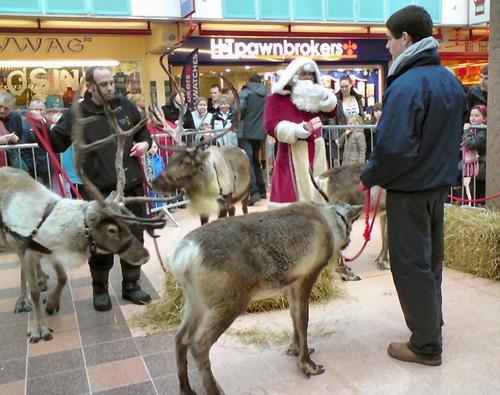 Amazon.com is certainly pulling out all the stops. In September the company said it was hiring 70,000 seasonal helpers to handle this year's holiday purchases. To help move merchandise faster, the company also opened five warehouse centers this year, bringing its total to 94.
A number of retail studies have attempted to put a price tag on this year's holiday spending. Most have predicted marginal overall sales gains. There is nothing new there. But what is new in this year's forecasts is the growing emphasis being placed on m-commerce -- retail sales through mobile technology.
"Consumers will use mobile phones to check store-based information, customer reviews, and be prepared in advance of store visits," Lauren Freedman, president of the E-tailing Group, an e-commerce consultancy that works to enhance user experiences while providing go-to-market strategies for retailers, told us. "They will also conduct research, check inventory, and reserve product for in-store pickup."
We're talking about a sizable amount of activity. "Mobile is expected to result in at least 10 percent of revenue for most retailers, and for some, as high as 20 percent."
E-commerce and m-commerce muscle in
Freedman is one of the retail experts predicting marginal overall sales growth and e-commerce taking a larger slice of the pie. "While retailers expect a 3 percent growth in sales this holiday, online sales will increase by 15 percent. "There is cautious optimism heading into the holiday. Consumer sentiment is not as strong as it could be."
That isn't surprising. Despite the formal declaration that the recession ended a few months ago, the news still hasn't made it to many households. Unemployment remains high, and consumer confidence remains low. Still, we are a consumer nation, and it is the holiday season. We have to shop. We're just getting a lot smarter about it, and that is where e-commerce and mobile comes in.
The E-tailing group recently surveyed 77 leading retailers that sell online to get their take on the coming holiday shopping season. Sixty percent said they expect online sales to increase by at least 10 percent. The survey included retailers with annual revenues ranging from less than $20 million to more than $5 billion.
A mobile merry Christmas
Just what will consumers be doing with mobile technology this holiday season? Tom Leung has some definite ideas.
A former Google executive, Leung is CEO of Yabbly, a year-and-a-half-old online shopper community where "people help other people make better shopping decisions." Yabbly members post things they are seeking, describe their particular situation, and invite other members to help them find the product, get the best deals possible, or share their experiences with the product or the store where it was purchased.
"We specialize in considered purchases, meaning items valued at $50 or more," Leung told me. Such purchases often run in the $100-$200 price range, have a number of choices available, and carry a certain degree of fear factor: the fear of making a mistake in the selection. These purchases aren't cheap -- hence the need for the community.
As one would expect, Yabbly's community members are very tech savvy. They do a lot of online searching and shopping, and they carry the latest mobile tools of the trade. Also, Yabbly does a lot of analysis about these shoppers are and how they like to shop. Surprisingly, Leung said, the mobile-only crowd is not taking over this space. Instead, his company finds that consumers who do the most purchasing use a combination of methods: PC-based browsing, store-based exploration, mobile-based information sharing, and back to PC-based purchasing. "It's not mobile only. The group that uses both channels [PC and smartphone, for example] are five times more engaged. I assumed it would be a little more, but not that much."
He sees an important message here for retailers: Don't be fooled into directing all your e-commerce efforts to the mobile shopper. That channel is important, but it's not where an actual purchase is likely to be made. "Omni-channel strategies are imperative for retailers as shoppers browse on mobile and want to be able to come back to where they are on the desktop to consume the information later."
So many choices, so little time
All this is both good news and bad news for the consumer, according to Leung. The good news: This holiday season, shoppers will use their mobile devices to capture images and information on a wide range of products in virtually every category in which they might be interested. The bad news: They will have a huge amount of information on a wide range of products in virtually every category in which they might be interested.
"All of the competition between retailers and manufacturers has resulted in more choices, but they have so many choices to make."
Related posts:
— David Weldon is an experienced editor, writer, and research analyst with more than 30 years of experience in the communications and research fields.