The rampant success of the cloud is slowing sales of some vendors' servers -- and IT professionals should consider the ramifications on their own careers.
During the third quarter of 2013, revenue in the worldwide server market fell 3.7% year-over-year to $12.1 billion, according to an IDC report published this week. For its part, Gartner estimated that server sales dropped 2.1% to $12.34 billion.
This marked the third consecutive quarter of revenue decline, IDC said. Last quarter, server shipments grew slightly, but they remained flat compared with the same period in 2012 at 2.3 million units during the most recent quarter.
Although revenue for volume systems grew 3.5% in this time, demand for midrange and high-end servers declined 17.8% and 22.5%, respectively, in the third quarter of 2013 versus 2012, IDC found. Blade server shipments dropped 1.5%, but grew 3% in revenue in the quarter, according to Gartner. Rack-optimized form factor server shipments increased 2.6%; they fell 1.8% in revenue for the third quarter of 2013, Gartner said.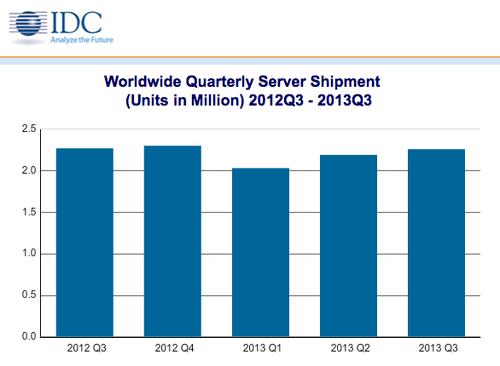 Jeffrey Hewitt, research vice president at Gartner, said: "x86 servers maintained low levels of growth at 2.1 percent in units year-on-year and 4.4 percent in revenue. RISC/Itanium Unix servers continued to decline at 4.5 percent and 31 percent in vendor revenue compared to the same quarter last year. The 'other' CPU category, which is primarily mainframes, showed an increase of 7.8 percent."

To the cloud
Pundits blame the cloud as one major reason businesses need fewer servers these days. It's also the reason white-box servers enjoyed revenue growth of 45.2%, year-over-year, according to IDC. Shipments increased 4.3%, the researcher found.

Cloud service providers that specialize in running huge datacenters full of high-powered servers have in-house experts proficient in running and maintaining custom-built machines from white-box vendors. They don't necessarily need the user-friendly, corporation-oriented help desks of branded servers. Rather, they prefer custom-built servers or models they can buy at a lower price.

These cloud providers also want power. That could be one reason systems such as IBM's System z mainframe running z/OS enjoyed its fourth consecutive quarter of growth, according to IDC. Revenue for the high-powered server increased 6.3% year over year to $827 million -- meaning it represented almost 7% of all server revenue in the quarter, the research firm said. IBM is the exclusive sponsor of Internet Evolution.

Open source also benefited from cloud adoption.

"Linux server demand continued to be positively impacted by cloud infrastructure deployments, as hardware revenue increased at 5.6% year over year to $3.4 billion in 3Q13. Linux servers now represent 28.0% of all server revenue, up 2.5 points when compared with the third quarter of 2012," the IDC report found.

What, if anything, do slowing server sales mean for IT professionals, especially those who specialize in supporting servers? For now, probably not much. With so many servers installed and so many more planned for installation, it's unlikely that server specialists will find themselves unwanted any time soon.

But technology is a fickle boss. Given that companies with a high cloud adoption report almost double the revenue growth and almost 2.5 times higher gross profit margin, is it any surprise that researchers predict cloud spending will grow 25% over this year to reach $100 million in the US alone by 2014? And won't all those cloud implementations mean fewer and fewer in-house servers across the enterprise landscape?

In other words, if you're known as the go-to server person, enjoy the spotlight. But pick up additional skills. Or apply for a position at your local cloud service provider.

Related posts: