Every decade or so, technology can shift the world with a boost from culture and society. One such shift is under way, says George Colony, the founder, chairman, and CEO of Forrester Research Inc.
Colony outlined his near-term expectations in a keynote address last week at Connections2012, an Indianapolis user conference sponsored by the email marketing vendor ExactTarget. The three-day event attracted 4,000 attendees. In Colony's view, technological trends alone -- such as the oft-quoted Moore's law about the doubling of processor performance every 18 months -- don't provide an adequate lens for the future. "There are other factors that lag technology," including capital, culture, processes, organizations, and skills. These factors catch up to the enabling technologies every seven to 10 years. When they do, "you get a thunderstorm."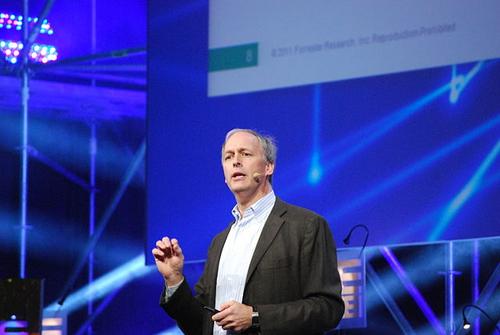 Colony sees four "thunderstorms" headed our way.
Storm No. 1: Death of the Web
"We believe the Web is a dying technology," Colony said. It may not go away entirely, but it might continue, like AM radio, as a "lowest common denominator." The reason? Network speed improvements lag improvements in processor speeds (which are doubling every 18 months) and storage (which is doubling every 12 months).
As a result, using increasingly powerful mobile devices as file viewers for the cloud "makes no sense." Instead, an architecture that links the cloud to powerful local apps on mobile devices will rule in the future. (Forrester predicts the app market, now worth $4 billion, will be worth $100 billion in the next three or four years.)
If this worldview is correct, Apple's iOS and Google's Android will definitely survive, as well as Amazon, which (like the other two) has its own app marketplace. Colony was slightly less confident about Microsoft, which is only now introducing Windows 8 and "copying everything Apple has done." (In addition, the other three companies -- led by Apple -- have tens of millions of credit card addresses on file.)
The Forrester leader was quite negative about Facebook. He called the social media giant "massively threatened," because it lacks both an app marketplace and mobile devices.
Storm No. 2: Social hits the wall
The second storm is what Colony called POSO, or post social. He believes there's simply no more headroom in social networking. People are spending as much time as they can on social media -- more time than on any other tasks except child care and cooking. Forrester also sees an inevitable pushback against social media -- users consider 55 percent of the time spent there wasted, the firm says.
"Social is running out of time and running out of people," Colony said.
Storm No. 3: New customers
Young people, specifically Generation Z (those 10-22 years old), show very different media consumption habits, preferences, and expectations than even their slightly older brothers and sisters, he said. But brands don't understand the unique requirements of this age group, including their preference for "multichannel" experiences -- those spanning various Websites and applications. Worse, today's CEOs have little affinity with these youngsters; Colony said the average age of the CEOs at the top 100 global companies is 59.
Storm No. 4: Mobile's impact
Colony's final thunderstorm is the impact of mobile devices, which he predicted will continue to grow in terms of processing power and sensors.
These devices are already producing a deluge of data, and businesses will increasingly feed this data into predictive analytics to fuel what he called "context-rich experiences." In the near future, users won't launch applications; their preferred apps will alert, suggest, and assist them based on explicit preferences and past activities.
To create these sorts of "mobile engagement" systems -- ones that work in complex, real-time scenarios -- core business systems will need to be reimagined. These systems will depend on content to succeed with customers.
Related posts:
— Ellis Booker has spent 20-plus years as a writer and editor at a variety of publications, including Computerworld and InternetWeek.