Iím done! I filled out my entire Website on TheKnot.com, reached the word maximum for the "How We Met" splash page, and chose four Celine Dion songs to play in a loop on the site while people are perusing the hundreds of pictures of us that I've uploaded.
Itís official. My wedding is going to be perfect.
I've been Pinning, Tweeting, and Instagramming like crazy for months, and it's finally paying off. My collection is solid and thorough. I have thousands of followers -- brides-to-be just like me -- awaiting my every move. Taking a look at my Hootsuite, I can confirm that I am armed with the tools I need for my special day.
Engagement pictures are first on my board, I mean my list. How would anyone know you're in love without engagement pictures? A simple wedding announcement doesn't say that at all. A wedding itself doesn't say that at all! No, I need my fiancť to dress in something really classic, maybe the same outfit that those waiters wear at the New Orleans-themed ice cream parlor? Definitely suspenders. Maybe he can get hair plugs because I don't think he can have the Elvis hair with that hairline...
A hat. Weíll go with a hat. He won't do a fedora so we'll have to go with a Kangol, which is fine because I've seen a lot of guys Pinned wearing a Kangol and even more who wear one in their Twitter default photos. Top that with some suspenders, and I'll wear some sort of vintage sailor/pirate-looking dress with lots of dainty gold jewelry and a side fishtail braid that I saw on my friend's "I Don't Even Hair" board, and we're good to put our love into the sealing truth of several photographs.
But what should we do at our photoshoot? On my emergency engagement photoshoot board, "Lovaroids," where I store ideas, I see couples making a heart shape with their hands, lots of brides and grooms looking down while embracing, and people doing cartwheels. Amateurs! I have to be more innovative. Maybe the two of us could be in jail together to show that we will never give the other up in court? "Jail 'love' birds, cute" is what people will comment. Maybe he could be lifting weights in the yard and I could be kissing him, Spiderman-style, and we'd both be wearing cantaloupe-colored jumpsuits? No, I have to do better. I have to deface some public property with our initials. We'll train a pride of lions to sign-language our names.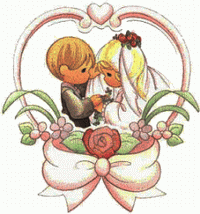 We will figure it out, but first I really should deal with my dress. Should it be vintage 2003 Michael Kors with several hundred cutouts in the back? Pleats, I'd like to see some pleats at some point, those always turn out well in pictures. Should I spend 5 percent of my budget on jewelry that is shaped like animals?
What about my bridesmaids? They simply must look like they're going to a theme party -- and that theme is ME. I'm thinking I'll take the idea of someone I pinned on my "'Til Death Do Us Party" board and have six friends dress in colors of the rainbow. Let's see... I don't think I have enough people for that many bridesmaids, but I'm sure I can scrounge up some randoms. How hard is it to be a bridesmaid? I'll make a post on FB and whoever Likes it is in.
Speaking of the ceremony, I was thinking of having it in something a little unconventional, like maybe in a Gymboree (that'd be so fun!) or in front of the produce section at Trader Joe's (colorsssss). Maybe something a bit more romantic like at the entrance of the subway station we met in or -- OR! -- on a ROOF, that is not FLAT! How cool would that look, all the guests fanning out sideways? We could probably bolt down some chairs. Oh, and I would love it if it were thatched. Then we could do a whole thatch thing with thatch in my dress and my hair, weaving the theme throughout. I'm going to search for #thatch.
What am I even stressing about this stuff for? The most important part of my wedding is obviously the cake. My fans on Twitter and Facebook and Pinterest and Foursquare know me as a HUGE cakie, and I can't let them down. Maybe it would be possible to replace the cake filling with Cadbury eggs? What about giving everyone their own mini cake with their names written in that strawberry basil puree I just Liked. I haven't tried it, I just Liked it. All I know is I want it tall, I want the ratio of frosting to cake to be 80:20, and when it's cut down the middle everyone better wait while I Instagram it.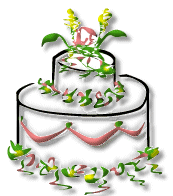 Yay! My florist just tweeted me saying she found the exact Ghost Peonies that I pinned on my "To Have and to Hoe" gardening and florism board. Ghost Peonies are just like regular peonies, but you can barely see them, and when in a bouquet they look like youíre carrying a little ghost. I think they're from Asia. They represent those we have lost along the way and those who did not get an invite and have to celebrate our love alone.
My site is already getting so much attention on Facebook and Twitter! VIRAL STATUS ACHIEVED! This is definitely the most exciting moment of my life! Can't wait to tell hubby-to-be: He's going to be so proud that we were featured on BuzzFeed! What nobody knows is that Iím going to invite Pinterest -- yes, the company -- to my wedding because I'm sure they'll want to do a feature on it. Do they do that? Iíd also be fine with hiring a team of marketers to live-tweet my wedding, as long as they optimize their tweets and use proper SEO.
People keep asking about my ring and I keep directing them to the huge collection of photos of raw diamonds in rose gold vintage princess sets that I have posted on one of my many boards on Pinterest. I have "Diamonds," "Diamonds Are Forever," and "Photos of the Diamond in the movie 'Blood Diamond,' " which is everyone's favorite. One of those will be my ring.
Yes, I said "will be." Oh, he hasn't given me a ring yet. No, we don't have a date yet. I just saw on Pinterest that everyone else was planning a wedding that hadn't been set yet and I decided to do so too. Is that wrong?

Related posts:
ó Sarah Shanfield is a writer, marketer, and social media specialist living in New York City. You can find her on Twitter at @shansar.