Before we can have any meaningful discussion about IT organizations, we need to discuss two critical relationships: the one between customer satisfaction and decentralization and the one between support costs and centralization. Let's delve into both a little more.
Customer satisfaction and decentralization
As the image below shows, customer satisfaction increases as decentralization increases -- up to a certain point.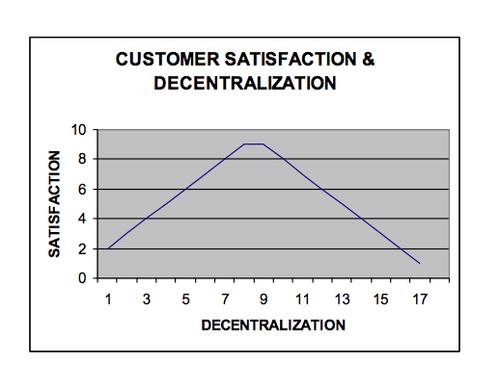 Many people will argue that the link should continue indefinitely -- that if each of us had an IT support person, we would all be very happy. This is not true. One key factor is corporate alignment, which measures the degree to which the work meets the institutional goals and adheres to institutional standards. Obviously, if each of us had an IT support person, there would be a complete lack of standards.
Customer satisfaction increases up to the point of optimal corporate alignment, and then it starts to decline. Finding this optimal point can be a challenge for any organization. Some level of decentralization allows IT to align and embed itself within various business units, while corporate alignment allows some standards to work across the organization -- which is critical for efficiency and organizational success.
It is important to recognize what happens when corporate alignment starts to decrease. As the alignment with the corporation decreases, IT organizations aligned with individual business units are created with independent and redundant layers of management. Standards erode, and it becomes very expensive and difficult to implement corporate applications and provide access to all of the organization's computing resources. Even though customer satisfaction has started to decline at this point, politics (usually of the very ugly kind) take over, and organizations begin to criticize one another to win political support and maintain user allegiance. They use customer dissatisfaction as a weapon, and everyone wastes time and energy in mud-slinging contests.
Support costs and decentralization
As this image shows, support costs increase as decentralization increases.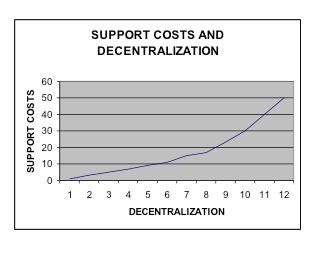 Implementating corporate applications requires additional customizations and workarounds. Departments suffer delays as the company accommodates varying technical approaches. Since each independent organization requires additional layers of management, costs increase.
In addition, since separate environments need to be maintained, they require additional hardware and software, thus escalating an organization's costs and staffing requirements. For example, a centralized company may need two servers to support a particular IT service, but supporting the service in separate organizations could require 12 servers, which means more machines, more software, and more support staff. It is also very difficult for smaller organizations to hire IT personnel with different skill sets. Some organizations can afford an array of skills, but others end up sacrificing and doing without.
This relationship could lead you to believe that organizations that want to control costs should centralize their IT management. However, too much centralization without recognition of geographic or business unit needs is not good for the organization. Hidden support costs increase when, in the absence of adequate support, employees and business unit leaders perform, support, and manage IT beyond their normal assigned duties. Such costs are difficult to measure, but you must recognize this tendency in designing your IT organization.
Leadership and teamwork
Good teams require good leaders. Teamwork does not happen in the absence of leadership. You cannot combine a bunch of people and expect them to work together without clear recognition of elected or appointed leadership. Multiple IT organizations cannot operate as a team unless they report to a single team leader.
Modern versus traditional IT organizations
Traditional computing environments tended to be datacenter-oriented and highly centralized. Modern organizations recognize that the network has become the computing environment for people. By its very nature, the network is distributed, and the computing capacity of an organization is geographically dispersed. Faster networks and other technological advancements have made it possible to deliver computing services to any network location -- whether inside or outside the organization.
Related posts:
— Mansur Hasib has served in CIO/CISO and other leadership roles in the public, private, and education sectors.