Bitcoin has become a new darling of the tech press, the subject of several weekly articles suggesting the virtual currency might soon transform Internet commerce and even the world itself. From my unique vantage, however, this euphoria seems largely contingent on a collective myopia thatís all too eerily familiar.
Just a few years ago, Second Life was also the subject of endless, breathless, high-profile reports suggesting the user-created 3D virtual world and its currency, the Linden Dollar, could soon influence whole industries, even governments. Like Bitcoin, euphoria over Second Life required a shared blindness over shortcomings which, in retrospect, seem obvious. But somehow the same key mistakes are being made by both Bitcoin advocates and tech journalists reporting on it, as if those lessons were never learned.

Enthusiasm despite little evidence of substantial user growth
When it debuted in 2003, Second Life was an irresistible subject for technophile reporters. Inspired by the Metaverse from Neal Stephensonís classic Snowcrash, the virtual world seemed like a cyberpunk libertarian utopia which resembled the immersive Internet we had always hoped for. (Back then I was among those enthusiast writers.) However, as media hype over Second Life reached an apex in 2006 and 2007, Internet analyst Clay Shirky raised an uncomfortable point: Despite reporting millions of registered members, actual daily usage of Second Life seemed closer to five figures.

ďThereís nothing wrong with a service that appeals to tens of thousands of people,Ē Shirky succinctly said, ďbut in a billion-person internet, that population is also a rounding error.Ē For that reason, he argued, any media coverage which touted Second Life as the future of the Internet (as some advocates were describing it back then) deserved serious skepticism.

For the same reason, articles that now imply Bitcoin is the future of Internet currency also deserve a skeptical eye. After all, Bitcoin so far seems to lack a fundamental feature which tends to make money money at all -- a substantial market of actual users who regularly use it to buy goods and services. This chart, which tracks daily Bitcoin transactions, now stands at 83,000 a day -- little absolute growth over its four year history, if these numbers are accurate (and Iíve found no reason to doubt them). In other words, Bitcoin is regularly used as money about as much as the Seychellois rupee, official currency of the Republic of Seychelles, off the coast of East Africa (population: 84,000). To have a meaningful impact on the Internet economy, which is forecast to be $1.2 trillion this year, daily usage of Bitcoin probably needs to be in the millions of transactions, not thousands.

Shirky was right to be skeptical of Second Life due to its scant usage, and itís a lesson Iíve learned to apply against any other technology purporting to be as transformative. When I note the lack of evidence of growing Bitcoin usage, enthusiasts rarely dispute that point, but instead typically cite reputable companies that now accept it as a currency. In doing so, they are actually repeating another fallacy which confused Second Life advocates during its heyday.

Excitement over potential applications despite little actual usage
As Second Life media hype peaked with a cover story in BusinessWeek, numerous companies attempted to capitalize on the attention by launching an official presence in the virtual world. American Apparel opened a branch in Second Life, even selling virtual copies of its clothing. NBC, Nissan, Reuters, and many more major corporations set up shop in Second Life too. It was a great way to get media coverage as forward-thinking pioneers homesteading the next generation of the Internet, but hereís one thing they didnít get: Large groups of actual visitors. As my blog first noted, nearly all these sites attracted paltry visits, let alone many Linden Dollars.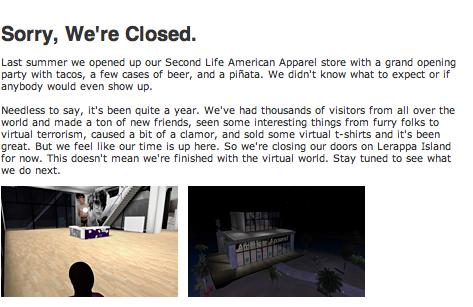 So when Bitcoin advocates boast that companies like Virgin and WordPress accept their own favorite virtual currency, my first question is: But how many people will actually spend using Bitcoin on these services, or is this actually just a Reddit-friendly publicity stunt? Iíve yet to receive a convincing answer.

As the wider media noticed Second Life was failing to fulfill its most grandiose promises, most companies yanked their outposts back into the digital ether. With this unraveling, virtual-world euphoria began to wane. Evidently, a deeper desire for libertarian cyber-utopia did not die with it. As Second Life fell from the common technophile imagination, Bitcoin seemingly rose to replace it.

Now 10 years old, Second Life is still extant, with a niche but active user community which still manages to find amazing uses for the world (and ironically buys a lot of Linden Dollars with their Bitcoins). If my interpretation is right, Bitcoin is likely destined for a comparable future. As the tech media finally starts wondering why the putative future of money is hardly used as money at all, it will dwindle to a niche of zealous utopians and unaffiliated radicals, steadfastly clinging to their Bitcoin.

Another technology, another dream of governments and corporations bending under its might. Someday, someday.

Related posts:

— Wagner James Au is the author of The Making of Second Life (HarperCollins) and the virtual world/Internet culture/gaming blog New World Notes, which he first launched as the official embedded journalist for Linden Lab, creator of Second Life.