What is spam? For most, this is one of the great culinary mysteries. However, while figuring out what constitutes the foodstuff might quickly be achieved through a Web search, what comprises spam in a digital context is much harder to define. As Supreme Court associate justice Potter Stewart famously said when pressed for a definition of pornography, "I know it when I see it."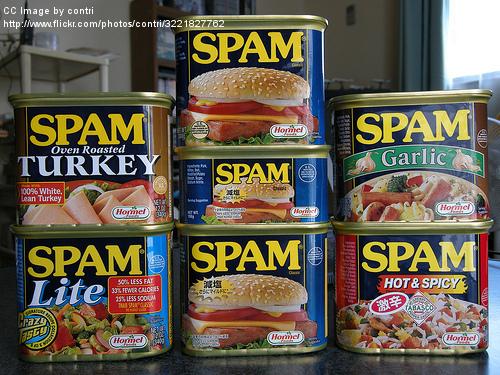 For those whose email inboxes are stuffed with it, spam is usually easy to recognize. On the other hand, social networking spam may not be so easily defined.
While, like social networking itself, social networking spam is not exactly new, it is rapidly evolving. And like some email marketing approaches before it, what may be viewed as spam by the recipient could well be something the sender sees as a legitimate promotional tactic.
The nebulous distinction between reasonable and reprehensible use of automated social media marketing is at the center of a recent lawsuit filed by Twitter against those it perceives as building social network spamming tools.
These tools perform services such as automatically following certain types of users (and un-following them if they don't follow back). They also leverage trending topics to interject off-topic marketing messages.
The defendants in Twitter's suit include JL4 Web Solutions (maker of TweetAttacks) and Skootle Corporation (maker of TweetAdder). Also named as defendants are the individuals Justin Clark, creator of TweetBuddy.com; James Kester, principal officer of Skootle; Jayson Yanuaria, principal officer of JL4; James Lucero, who operates a number of Websites the suit refers to as "dubious," which he promotes through Twitter; and Garland E. Harris, who Twitter claims operates more than 129,000 Twitter accounts linked to his online auction and payment service.
Some argue that this suit is merely another example of Twitter's efforts to eliminate third-party Twitter clients and applications. However, according to Twitter, the suit represents an extension of its ongoing efforts to combat spam.
Specifically, Twitter alleges that the tools named in its suit are "designed to distribute Spam on Twitter (and the web) by making it easier for other spammers to engage in this annoying and potentially malicious activity."
Philippines-based TweetAttacks, which purportedly automates Twitter marketing "without getting noticed," closed its site soon after the suit was filed. TweetAdder continues to do business, billing itself as a Twitter marketing and promotion tool that allows companies to automatically target, follow, un-follow, and direct message Twitter accounts based on defined text strings.
TheStreet Contributor Jonathan Blum is among the users of TweetAdder who believe it can be used as a legitimate marketing tool. He writes very candidly about his experience using the tool in ways he feels would not be regarded as spam.
Blum also points out some potential conflicts between Twitter's stated objective of controlling spam and its own policies, at least as compared with older social networks such as LinkedIn (which limits unsolicited mail by rationing InMail contact) and Facebook (which limits the number of "friends" you can have on a personal account).
As Blum sees it, "suing TweetAdder for spam is like suing Gmail for spam." And for every person who might wish someone could outlaw inbox-clogging spam, there are individuals and organizations leveraging the tool for legitimate marketing objectives.
Most would agree that spam, like junk mail and telemarketing before it, is unpleasant and detracts from the value of the medium through which it is delivered. It may not be so easy to clearly define social media spam in a way that makes it something that can be readily regulated and litigated.
While social networks are viewed as the bold frontier for marketing and advertising, they are also open to the same constructive and destructive (or downright distasteful) uses as other mediums. For reputable organizations to effectively engage and market within a given context, they must understand user expectations and add value.
It remains to be seen if Twitter can convince a court that these third-party tools are breaking the law and not simply skirting its terms of service. In the meantime, while the courts and others struggle to clearly define social networking spam, there are strategies that work.
Social media marketing requires thoughtful planning and appropriate use of particular channels. In social media, users seek something genuine -- and spam in any guise will fail to appeal.
Related posts:
— Michelle Manafy writes for a variety of publications with a focus on emerging trends in digital content and how they shape successful business practices.