Nearly 60 percent of companies with big-data initiatives are seeing transformational changes, according to a recent study.
Organizations overwhelmingly perceive value in big-data investments and believe they are ready to get the benefits, according to the study about big-data in business (registration required), conducted by the organizers of the upcoming Big Data Conference in conjunction with Nemertes Research. The conference is produced by UBM, which publishes Internet Evolution.
The joint survey polled more than 350 IT professionals. Among the findings:
Big-data is gaining traction. Thirty-nine percent of respondents said they have big-data initiatives or will have them by the year's end. Another 13 percent are planning big-data initiatives for next year.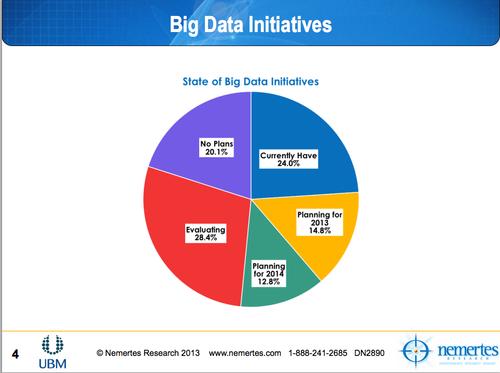 Big-data drives business value. Seventy percent of respondents have demonstrated business value such as higher revenue, lowered operating costs, and improved customer retention from big-data initiatives.
Big-data drives strategic change. Fifty-seven percent of respondents have driven strategic shifts with big-data.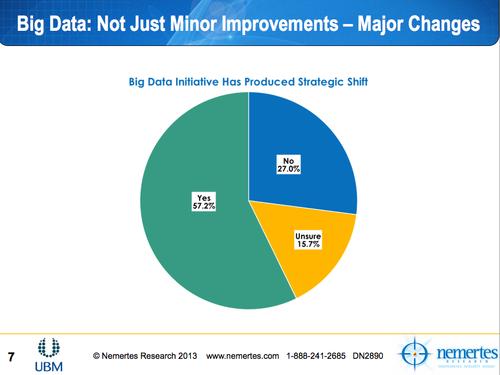 Big database vendors are strategic. Eighty percent are bringing strategic vendors forward as partners, chiefly IBM (sole sponsor of Internet Evolution), Microsoft, and Oracle. But most are also using open-source tools.
So is open-source. More than 70 percent are using open-source tools, often with commercial services or addons from newer big-data vendors, such as Cloudera, 10gen, and Tableau.
Big-data incorporates a variety of data types. More than three-quarters of the companies with a big-data project (78 percent) make use of relational database data. Nearly two-thirds (62 percent) use text files. More than half (52 percent) use server logs, and about half (50.6 percent) use Office documents.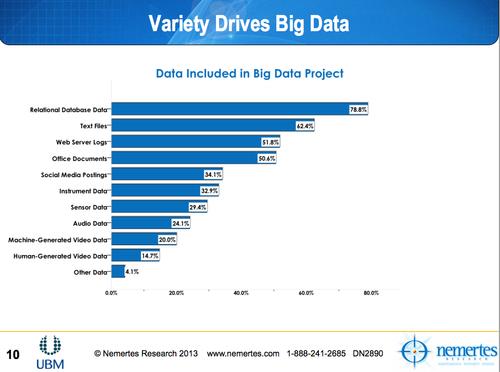 "Big Data is far from overhyped," said Johna Till Johnson, president and founder of Nemertes Research and conference co-chair, said in a press release about the study. "Our research indicates that the majority of organizations consider Big Data initiatives key to their abilities to innovate and drive value."
The Big Data Conference is scheduled for Oct. 22-23 in Chicago's McCormick Place and will be co-located with Cloud Connect Chicago.
Related posts:
— Mitch Wagner




, Editor in Chief, Internet Evolution