Google Street View is a tool to explore worldwide places through 360-degree street-level imagery. It can also be an effective civic media tool for citizens, activists, and amateur journalists, since it can be used to draw public attention to issues, as well as to monitor and report environmental conditions.
For example, in 2009 I launched In Fondo Al Mar (Under The Sea), a data-journalism project on the dumping of toxic waste in the Mediterranean Sea. Since then, I have been interested in the social, political, and public health consequences of the waste cycle.
Though In Fondo Al Mar was focused on environmental crimes in the sea, a recent trip to Naples pushed me to research the waste cycle dynamics in the Campania region of Italy -- specifically in the Land of Fires. Here, hundreds of landfills are concentrated in an area that used to be one of the most fertile in Europe. Waste is everywhere, and when landfills and streets fill to capacity, the trash is set on fire.

Using Street View, I have compiled imagery highlighting patterns of illegal waste disposal and fire destruction. The entire set of locations can be browsed on my personal blog. For this article, I have selected two significant cases: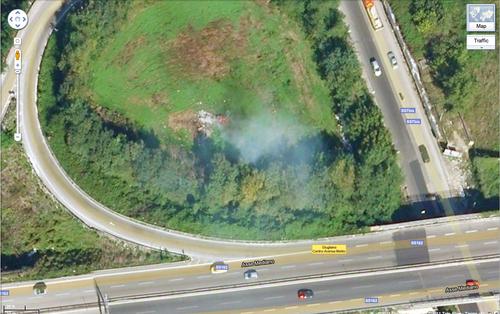 Giugliano in Campania
From above, several plumes of arson can be spotted, starting at three quarters of the maximum zoom level. On the Asse Mediano highway ramp in Giugliano, we can spot piles of garbage in the bottom-right corner and fire in the surrounding area. In the waste disposal business, ramps are strategic points -- trucks drive there along highways with unknown loads, and drivers pull over from the highway and dispose of their contents in the proximity of the ramps.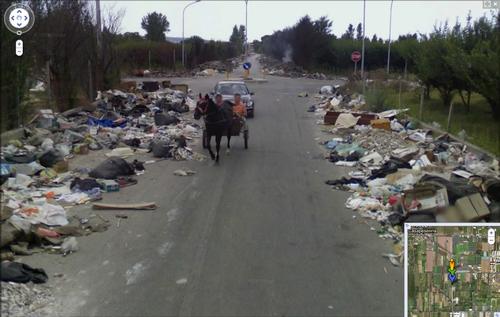 Via Vianini
Of the spots I explored, Via Vianini is probably the most emblematic in the Land of Fires. The imagery shows garbage piles that almost cover the width of the street, surrounded by crops, orchards, and greenhouses.
We can highlight several design features that make Street View an effective tool to explore environmental issues. Street View is:
Immersive. It enables immersive experiences through its street-level perspective.
Accessible. Its interface is intuitive and easy for users with different skill levels.
Neutral. It portrays the world as it is.
Experiential. Locations can be experienced as though the user were walking, jumping, zooming, and rotating through them.
Spreadable. A Street View URL address contains a sequence of machine-readable information that allows one to "set the stage" for users to re-experience an exploration.
Expanding. Mapped locations are constantly growing as Street View vehicles cross new spots worldwide.
Though Street View offers tremendous value for storytelling, I recognize four limitations that reduce the potential to engage users in civic journalism activities:
Mapping coverage limits. Street View imagery covers vast portions of the most connected countries in the world, but only where political systems and national privacy regulations allow for it. Furthermore, only streets that are accessible to cars or bikes are actually mapped.
Space without time. Street View portrays a space where time is static and landscape evolution does not occur. Thus, a space with no time indicator implies that relevant issues cannot be monitored as significant events unfold.
A Google-ized world. All Maps and Street View images belong to Google. Therefore, the world representation from above and at street level is Google's representation of it, with all the implications for copyrights, use rights, and even politics. Location imagery can be updated at any time without previous notice, and some of the locations can be discontinued. Furthermore, user-generated content that is uploaded on Google servers becomes Google's.
The Land of Fires case study illustrates the opportunities and limitations of Street View as an instrument for monitoring and reporting environmental issues. At the same time, the downsides noted above urge us to define a new set of design directions for a comprehensive toolkit to be used by citizens involved in environmental monitoring and reporting.
— David Boardman is a designer and media artist based in Milan.