I remember years ago helping someone choose a computer platform. "Walk into a computer store, and look at the software titles," I suggested. "If the software you want is mostly for the Mac, buy the Mac. If it's for a PC, buy a PC."
Graphic artists would then go and buy a Mac, and number crunchers would head over to the PC area. I don't know how they chose among all the PC models available; my advice was limited and lazy.
But my point is that people don't buy products simply based on the feature set. They look at the entire ecosystem. That includes software, peripherals, trained developers, third-party user manuals and other training materials, classes, user groups, and conferences.
And when picking a platform -- say, Mac or PC -- it was relatively easy to gauge the strengths of the respective ecosystems, through the news media, word of mouth, analyst research reports, and window shopping. However, it was much harder to gauge the relative merits of niche platforms, where information about the ecosystem was harder to find.
Today, enterprises have another way to evaluate competing platforms: through the health of their app stores.
Products I've never heard of before now have app stores -- real app stores, where the apps are fully integrated. You just buy your license and click Yes when it asks you to authenticate.
The iOS and Android platforms are two obvious examples of how app stores are starting to define ecosystems. Another one of my favorites is the Google Apps Marketplace.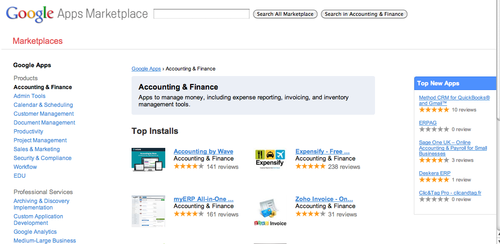 You pick your app, click the install button, and then give permission for the app to access your email, spreadsheets, calendar, and whatever else the app needs. And you're in business. There are around 700 installable apps on the platform, which also lists professional services.
Maybe you're a user of Salesforce customer relationship management. But Salesforce doesn't have all the features you want. Check the Salesforce AppExchange. It has around 2,000 apps, which have been installed more than 2 million times. There's even a whole category of free apps for the budget constrained.
Zoho, another platform vendor, offers cloud-based CRM, database, and productivity tools. And it has its own app store, the Zoho Marketplace.
Comparing the most popular apps in the Google Apps, Salesforce, and Zoho stores gives an excellent overview of how these three platforms stack up to one another. Google and Salesforce have more brand-name partners; MailChimp and DocuSign are among the top downloads on both platforms.
Microsoft is lagging behind in this game. Its Office 365 Marketplace is hard to navigate and mostly features consultants, though it also has a few hundred apps. MailChimp is not one of them, but it does have DocuSign. But then again, Office 365 is a relatively new platform, and the app store might improve over time.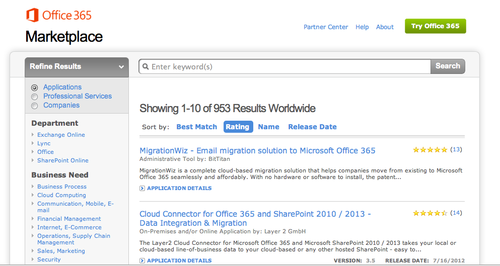 The Zoho Marketplace offers database apps written inside Zoho Creator by individual developers, rather than full-fledged third-party applications that integrate with the Zoho platform, so there are no brand-name offerings available. Selection is meager, even though this particular app store was launched back in 2008.
Even nonprofit platforms are getting into the app store game. For example, the free, open-source content management platform WordPress offers a directory of free themes, but it also showcases a category of commercial themes. Installing the commercial themes isn't always as easy as installing the free ones, since customers have to go outside the WordPress site to buy the themes.
The design of an app store is a quick indicator of the degree to which a company is committed to building a future-proof and user-friendly ecosystem. The selection of apps and the quality of contributors are signs of whether developers are willing to bet on the platform.
Here is what I look for in a platform:
The ability to search for apps based on genre, popularity, key words, sales, and developers


The ability to pay for, install, and activate the app from within the marketplace


The ability to provision the app to my company's users or deprovision it from inside the platform


Seamless integration with the rest of the platform


Brand-name applications, such as Evernote, Dropbox, and others considered standard in my industry
What would you add to the list?

Related posts:

— Maria Korolov is president of Trombly International, an editorial services company that provides coverage of emerging technologies and markets. She has been a journalist for more than 20 years.