I don't wear a watch. I haven't worn one years. If I'm carrying a phone -- any phone -- I always know what time it is and don't have to worry about time zones or daylight savings time. And I don't want to have an iPod or an iPhone that I can wear on my wrist. Again: Why? If I want to sport one while jogging, there are plenty of bands you can already buy that do that.
But I'm still fascinated by recent reports that Apple is working on some kind of watch.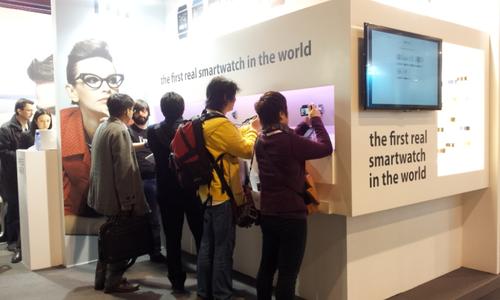 I can sum up all the reasons into one word: security.

The thing is, like many people, I'm careless about passwords. I mean, how feasible is it to have a different, complicated password for every single website and user account? I could install and use a password-management application, which has its own inconvenience factor; or, like most people, I use variations on a few favorite passwords.

I keep a list of which account uses which variation, but don't write the core passwords themselves down anywhere. By doing that, I'm probably more secure than most people, but I'm still not protected against any keystroke-logging viruses that my antivirus software might let slip through.

That's how my watch could be a great security device.

Reduced risk of theft
A watch is something you always wear. Back when I used to wear one, I took it off only while showering or swimming. Note to manufacturers: If you do make a smart watch for me to use, make it waterproof so it doesn't get stolen at the gym.

You wouldn't leave a watch lying around, like you might a smartphone or tablet. For example, I've been known to leave my iPhone on the table at McDonald's while running to the bathroom. I live in a small town, and I know the staff well because it's one of the only places around with free, reliable WiFi. I figure my iPhone is safer than in the bathroom, where I might drop it into the toilet.

A pickpocket is less likely to go after your watch, since it's attached to your body -- unlike my phone, which I keep in a pocket, or tablet, which is usually in my purse.

Smartphone access
My smartphone doesn't have its password lock turned on. I check my phone a million times a day, and having to log in each and every time would be excruciatingly painful.

It's more painful than if someone took my phone, logged into my email, and found all my research about PCI compliance or whatever story I happen to be working on. I don't do any sexy political scandal reporting, and don't have any naked pictures of celebrities stored on the phone.

If my watch had a built-in security function, my info would be safeguarded a zillion-fold better without any extra work on my part.

For example, if my iPhone turned on only when my smartwatch was near, then if someone stole my phone all they'd get is an expensive paperweight. Sure, they might be able to wipe the device and sell it as a used phone, but they wouldn't get access to my emails, documents, saved auto-fill information, and social media accounts.

This would be especially important for companies where employees with poor security habits access their email or other corporate systems using their smartphones.

And that's a lot of workers. According to a recent Ponemon survey of security professionals, 76 percent of employees don't change passwords frequently, 74 percent reuse passwords, and 40 percent of employees turn off security settings altogether.

As an added bonus, it would be nice if my smart watch beeped or vibrated if I strayed too far from my phone. Better yet, consider the benefits if the smart watch could help me find my phone if it falls behind the couch cushions while in silent mode.

Tablet access
In addition to securing a tablet, as with securing a phone, a smart watch could also be used to manage user accounts on tablets so when I pick up my tablet, I get access to all my personal and work functionality.

However, when I give the tablet to a client, they can only see the sales presentation. Or if my kids pick up the tablet, they only see their games and Netflix. Or if my husband picks up the tablet, he can get to his email and his browser bookmarks, but won't be able to see that I'm reading Fifty Shades of Gray and corresponding with my ex-boyfriend from high school.

Not that I have a husband, or would correspond with an ex-boyfriend if I did. It's just nice to keep your options open.

It would also be nice if the smart watch was inexpensive enough to buy one for each child, but even if the price tag is higher than I'd like, I'd still get one, and my kids would automatically get the "guest" access on my tablet.

Work access
Companies could use a smart watch to control access to business tools and facilities. When I walk into a building, it could broadcast who I am to the security system. It could tell my office door to unlock itself. It could tell my work computer to sign me in. It could turn on a company car. If there are shared devices, like printers or tablets, it could tell them who I am and what my department billing codes are.

A smart watch with a programmable display could also generate single-use passwords for sensitive corporate applications, such as financial or security systems.

To do all this, a smart watch must be capable of running apps. These could be custom apps, written by your company, or generic third-party apps that an organization could customize or configure to work with its systems.

Must it be Apple?
Apple is getting all the attention here, and iPhones and iPads are popular with business users.

But a generic smart watch, one that could work together with Microsoft or Android devices, would also make a lot of sense for enterprise deployments -- especially in a heterogeneous environment, with desktops, laptops, phones, and tablets from a variety of manufacturers.

I'd write more but my phone's telling me it's time to go.

Related posts:

— Maria Korolov is president of Trombly International, an editorial services company that provides coverage of emerging technologies and markets. She has been a journalist for more than 20 years.