Companies marketing internationally face new challenges in China as the search engine battle heats up there, leaving US providers barely in the running.
According to StatCounter, Google use in China dropped from 41 percent in May to just under 22 percent in September, and Baidu use rose from 54 percent to 70 percent. The other gainer in China is 360 Search, whose use there has grown from virtually nothing to 4 percent since the end of the summer.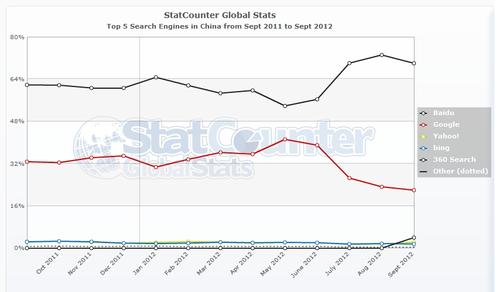 By some rankings, 360 Search has already passed Google in China. It already supplies a popular browser [in Chinese] and switched its default search engine from Google's to its own in August.
Companies targeting the Chinese market need to adjust their strategies and not focus on just Google, which, according to StatCounter, has a 91 percent marketshare worldwide.
Google no longer has a local search engine in China. Instead, it reroutes local traffic to Hong Kong servers. The company pulled out in 2010, citing government censorship. Chinese users can still reach Google and other services like Gmail, but service is frequently disrupted by blocks from the Chinese government.
There are two ways this adds to the bad news for international companies looking to reach Chinese consumers. First, Internet marketing and search engine optimization strategies designed to work with Google may not work in China. Second, if a company has a conflict with the Chinese government, Beijing can step in and censor search results at any time.
To see why these factors can be a big deal for e-commerce sites, consider what happened this spring after a crash in Beijing involving a Ferrari 458 hurt a woman and killed two people, including the car's driver. The government blocked not just the reports of the accident, but also any mention of the word "Ferrari" on blogs, Websites, or social media. All searches for the word were censored, as well.
The reason? According to reports, the driver, Ling Gu, was the son of a high-profile Communist Party official, and awkward questions were raised about how the official was able to afford such an expensive car.
The media blackout continued through September, when the official was demoted.
As the gap between the rich and the poor continues to grow in China and becomes more and more visible, foreign luxury brands will increasingly become the target of censorship designed to quell public anger.
As popular international communication channels get blocked in China, global companies will have a harder time keeping the lines of communication open with their customers -- and potentially with their Chinese employees and partners.
Today, many Google sites are blocked, such as Google Docs. So are Facebook, Twitter, Picasa, YouTube, Blogspot, and Wordpress. These sites are regularly used for corporate communications, marketing, and outreach.
China isn't a market that can be easily ignored, especially by multinational companies, consumer brands, or luxury retailers. This means increased costs of doing business for all these firms. They will have to work harder to find and maintain reliable ways to connect with their Chinese customers, employees, and partners.

Related posts:
— Maria Korolov is president of Trombly International, an editorial services company that provides coverage of emerging technologies and markets. She has been a journalist for more than 20 years.