I love the idea of Chromebooks -- superlight laptops that do nothing but access the Web. And I love those Google commercials where a guy's Chromebook is destroyed over and over again in various imaginative ways, and he picks up right where he left off after each disaster.
Where tablets are a great form factor for consuming content (e-books, videos, email, games), Chromebooks could be an alternative for folks who need to create a lot of content on the go.
Google keeps sweetening the pot with software upgrades, support for more peripherals, a continuously improving user interface, and now the promise of 100 free gigabytes of Google Drive storage.
For schools and companies that have already moved their applications to the Web, Chromebooks can be a great deal, especially if users want computers that boot quickly, require no maintenance, and can go a whole day just on battery power. Plus, if a Chromebook is lost or damaged, there's no loss of data, because the data lives in the cloud.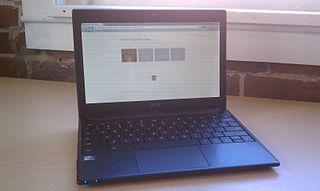 There is one big problem with using a Chromebook as a laptop replacement: Laptops, not Chromebooks, are used as desktop replacements.
I use a desktop at work, but I have copies of most of my critical applications on my laptop. I sync my documents so that, when I do have to work remotely (or when the desktop is down for any reason), the laptop can easily take over. I can't run applications on a Chromebook, since it's basically just a browser.
Companies that have many legacy applications that run on desktops would have a hard time switching their employees to Chromebooks. That is a shame, since there are many work environments where long battery life, fast boot-up times, and light weight are major assets, as is the ability to switch in a new Chromebook quickly if the old one is lost or damaged.
Logistics and transportation companies like Quality Distribution Inc., North America's largest bulk transportation company, are a case in point. As they are with many companies, Web-based applications are a small part of the picture at Quality Distribution. The Tampa, Fla., company is a heavy user of Microsoft Office and specialized logistics applications like TMW PowerSuite, RandMcNally MileMaker, and Xata Turnpike.
To take advantage of Chromebooks while sustaining these kinds of apps, Quality Distribution is using software from Ericom. Chrome supports Ericom's PowerTerm WebConnect and AccessNow, which are virtual applications and desktops that run in the browser using HTML5. This approach lets Quality Distribution give employees access to applications and data from any device, according to Cliff Dixon, the company's vice president for IT.
"Our workforce is very decentralized, and they are constantly asked to answer questions and access data when they are outside the office, making it important for IT to make it easy for these users to get to data without jumping through a lot of unnecessary hoops," Dixon told us. Chromebooks come in useful in other cases, as well. "We do have a lot of instances where we need to put a driver or noncomputer user in front of a computer with Internet access -- such as kiosks. The Chromebooks work very well for these types of users, as well as for emergency response situations."
Ericom isn't the only company out there offering virtual desktops that can be accessed via a browser. Large corporations that run their own servers have quite a few options, including Citrix's XenDesktop, VMWare's View, and products from Quest Software, Microsoft, Virtual Bridges, MokaFive, Kaviza, and Unidesk.
Of course, you still need a computer somewhere to run the full Windows operating system and the applications you need. You can run them yourself on your own servers or get them hosted in the cloud. Leostream and Desktone offer cloud-based Windows desktops that can be accessed by Chromebooks, as well as by most tablets and smartphones. Both companies are Ericom partners, and they offer HTML5-based interfaces.
Virtual desktops are not necessarily a permanent solution. The license charges or monthly access fees can add up. But they can fill in the gap until the rest of your applications have migrated to Web-based access. And they expand the range of applications where Chromebooks make sense.
Related posts:
— Maria Korolov is president of Trombly International, an editorial services company that provides coverage of emerging technologies and markets. She has been a journalist for more than 20 years.