I'm having difficulty writing this blog because every time I go back to the Rubio's website, I get distracted by pictures of the food.
Rubio's is a West Coast chain of taco stands that specializes in fish tacos, as well as shrimp burritos.
Mmmm… I haven't had a shrimp burrito in...
Focus, Mitch!
Rubio's has a loyal customer base, and it harnesses those customers to spread the word as brand advocates on social media and other Internet channels.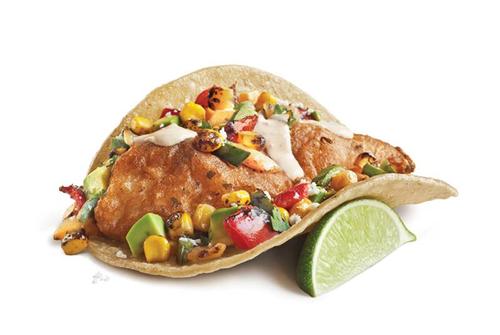 "There is a cult-like following for fish tacos," said Karin Silk, VP marketing at Rubio's Restaurants, giving a presentation at Online Marketing Summit this month. "Fish tacos are a craveable object. The fish taco lover is a raving fan."
Rubio's worked with social marketing agency Zuberance to create a "marketing army" of 64,000 brand advocates, said Zuberance founder and CEO Rob Fuggetta.
The aim of brand advocacy isn't to generate likes and followers. "It's about making the cash register ring," Fuggetta said.
The first step is to identify brand advocates. Rubio's does that by first looking at the people followng the brand on Facebook and Twitter. It asks people to share their stories about their first fish taco:
On the company's Facebook page, it asks, "How likely are you to recommend us?," and asks for a rating on a 1–to-10 scale.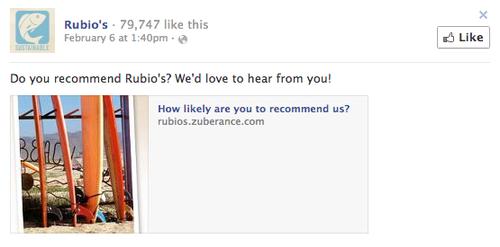 Rubio's gets more clicks from Twitter, but more conversions from Facebook. It also identifies brand advocates through its mailing list.
Brand advocates who follow the Twitter link or who answer the survey with a 9 or 10 are asked to write up the stories of their first experience with Rubio's, and can click buttons to easily share those ratings on Yelp, Twitter, and Facebook. The Yelp button takes users directly to the Yelp page for their local Rubio's.
The goal is to spread the word, and generate four- and five-star reviews on Yelp, Silk said. However, Rubio's doesn't mislead -- consumers' reviews are their own, and people who had a bad experience are free to post about them, and will. Yelp posts the best stories to Twitter, Facebook, and elsewhere.
Brand advocates aren't the same as fans or followers, Fuggetta said. Fans and followers connect with brands on social media for selfish reasons, because they want a discount or offer. Brand advocates genuinely love the brand, and want to spread the word.
"You don't have to pimp out your brand advocates. You just have to make it easy for them to recommend you," he said. Brand advocates don't need to be paid or offered swag; they willingly make brand recommendations.
"For us it was important that we weren't paying people," Silk said. "We were connecting with them in a genuine and authentic way."
But brand advocates don't work completely without reward. Rubio's occasionally hosts parties and cooking demos for them and gives them early access to new products, Silk said.
Brand advocacy is the best kind of marketing because consumers trust recommendations from their friends over marketers. "Your customers are better advocates than you are," Fuggetta noted.
"Brand advocates are not the lunatic fringe. They're not the crazies," he added. Some 80 percent of Rubio's customers answer 9 or 10 on how likely they are to recommend the brand. The average for business is 50 percent.
Do you have any experience with brand advocate programs? How has that worked for you?
Also, what's for lunch?
Related posts:
— Mitch Wagner




, Editor in Chief, Internet Evolution