In the wake of the Boston Marathon bombing, armchair detectives on Reddit and 4chan tried to "crowdsolve" the case by analyzing photographs of the scene. Reactions were mixed -- as were results.
Reddit is no stranger to attempting unique crowdsourcing applications -- including trying to crowdsource crime-solving. It has a subreddit called the "Reddit Bureau of Investigation," in which people post details of crimes and other mysteries, seeking help from the Reddit community. While it's unclear how successful RBI has been in actually solving crimes, in a different subreddit four months ago, a Redditor identified the make and model of a car involved in a hit-and-run based solely on a photo of one of its headlights.
Ditto for 4chan. In 2009, when YouTube videos surfaced of a teenager abusing his pet cat, disgusted 4chan users mobilized and successfully tracked down the abuser, reporting his information to law enforcement authorities.
But could these two Internet communities successfully harness the power of crowdsourcing to help find the perpetrators of a terrorist attack? The answer: yes and no.
Internet sleuths put a great deal of analysis into available photographs, pointing out "suspicious" behavior such as looking in a particular direction, making certain hand gestures, "trying to look nonchalant," holding a backpack, not holding a backpack, running away from an explosion, not running away from an explosion, and so on.
To be fair, some of the crowdsourced efforts may have been helpful. Redditors were able to identify the hats worn by the two since-confirmed suspects, as well as other details.
The crowdsleuthing also caused its share of grief. Despite a (perhaps naïve) moderator warning in the findbostonbombers subreddit to "not make any images viral," various Internet analyses of the crime scene indeed did just that. And despite pleas by some Redditors to limit public accusations so as to prevent a trial by public opinion, innocent people labeled "suspicious" saw their reputations smeared (even inspiring a meme).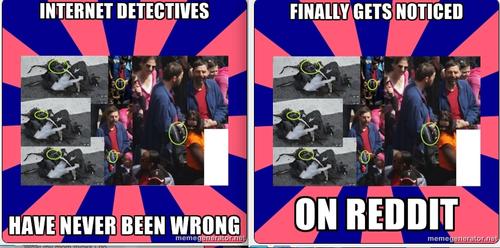 One wrongfully accused 17-year-old visited the Massachusetts State Police to clear his name after getting more than 200 Facebook messages from people who had seen him identified as a possible suspect. (Even then, a few Redditors continued to voice doubts about his innocence.)

Yet another accusation was particularly heartbreaking. Sunil Tripathi is (or, perhaps, was) a depressed 22-year-old Brown University student who went missing in March after leaving behind what may have been a suicide note. As Redditors pored over FBI-released photos of the Boston crime scene, some became convinced that the suspect later to be identified as Dzhokhar Tsarnaev was actually Sunil Tripathi.

Later, Tripathi's name trended worldwide on Twitter for a short while, in connection with the Boston bombings, as people live Tweeted activities surrounding the ongoing police pursuit of the suspects in the early hours of Friday morning. Even some news reporters erroneously cited Tripathi as a suspect after his name was heard on a police scanner.

In response, leagues of Internet commenters reportedly plastered a Facebook page dedicated to finding the missing Tripathi with hateful invective faster than you can say "Ryan Lanza."

Redditors later apologized to the distraught Tripathi family, and have tried to make amends, but the damage has been done. ("Sorry about skipping due process and essentially torturing you!" wrote one Redditor who clearly has a promising future writing Hallmark cards for people at Guantanamo Bay.)

Law enforcement eventually released photos of the actual suspects to the public to put a stop to the chaotic free-for-all of finger-pointing. Ironically, the crowd-forced decision proved helpful, leading to a tip from the suspects' aunt, identifying them.

The moral of the story, however, is probably not one of pro-crowdsleuthing. Rather, it is one for law enforcement agencies, as well as any enterprise. If your audience is desperate enough to see results, take charge of the messaging -- lest they try to do your job for you.

Crowdsourcing, after all, should generally only happen when you want it to.

— Joe Stanganelli is a writer, attorney, and communications consultant. He is also principal and founding attorney of Beacon Hill Law in Boston. Follow him on Twitter at @JoeStanganelli.

Related posts: