Traveling has a way of bringing perspective. When you see things that stood hundreds or thousands of years ago, you realize economies and societies run in cycles, and while a particular system or society might dominate for a while, they are forever being disrupted.
We're seeing that now as the Internet brings vast changes to the way we do business.
That point was driven home to me last summer as I stood in the Roman Coliseum and gazed at what was once, for better or worse, a thriving place. Today it is a ruin that marks a bygone piece of history, a giant footnote -- and proof of the cyclical nature of societies.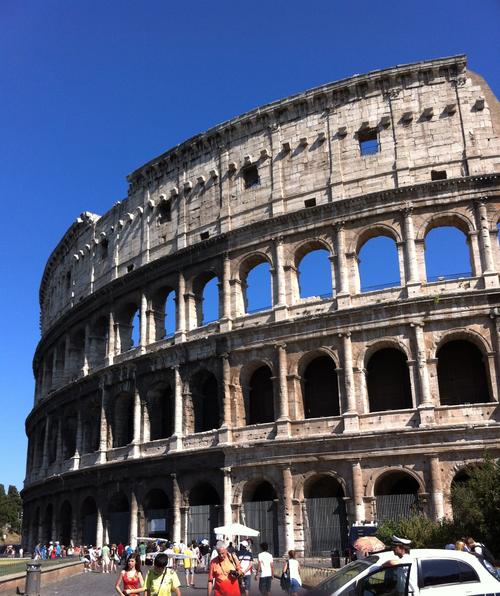 More recently, I was driving down the New Jersey turnpike toward Washington, D.C. on a family vacation when I spied some giant warehouses in the distance. One belonged to a large publisher: In an age where books are increasingly digitally delivered, how long will it take before these large, white, hulking buildings are obsolete?

Could we someday drive down that horrible stretch of highway and see those warehouses lying in ruins in the distance, a vestige of an extinct age when we produced books in factories and stored them in warehouses before placing them in trucks and sending them hurtling down the New Jersey Turnpike to market?

When I visited Harpers Ferry, West Virginia, the point was driven home even harder. It's famous for being an early Civil War battleground. It was also once a thriving industrial town, replete with factories and water mills and a flourishing town life -- but it was eventually undone by shifting economic priorities and massive floods. Today, it's a national park, and the town itself is a living museum.

Fortunes can change rather quickly, a lesson we would be wise to keep in mind.

Today, we have perhaps the biggest disruptive force in history occurring. That, of course, would be the Internet, the subject of this publication, and it's undoing businesses in rapid fashion. It has altered commerce as we once knew it, threatening brick and mortar stores. It has altered newspapers, record labels, and taxi services.

I saw the Airbnb VP of International Martin Reiter speak at the CeBIT Technology Fair in Hannover, Germany in March. Reiter saw Airbnb as part of a much larger picture of a shifting economy. He said he wanted no less than to revolutionize the way we consume.

"Think of sharing as access, not ownership," he told the audience that day.

Companies like Airbnb, Uber, and Couchsurfing are undoing the status quo and changing the economy in radical ways by shifting traditional models. All this is possible because of the network, the Internet, along with the mobile and social tools we have created to share not just our thoughts and our likes and dislikes, but also our homes, our cars, and even our lawn mowers.

When you have companies that so alter the way we've always thought of doing business, it's not so far fetched to imagine a day in the not-too-distant future when those warehouses along the New Jersey Turnpike will sit like rotting wreckage, a testament to a day when we produced tangible objects in large enough numbers to require huge buildings to house them -- in the days before digital delivery and 3D printing rendered them as obsolete as the Roman Coliseum and the remains of the water mill at Harpers Ferry.

And if you're a CIO today, reluctant to change the way you've always done business, perhaps it's time to rethink your systems and priorities because there are companies out there gunning for your business, and sitting still is not an option.

Because that level of disruption is happening right now in every industry and every business, and it's not hyperbole to think that one day all those factories will be an industrial wasteland, evidence that one time we used to produce stuff in these buildings in the days before the Internet changed everything.

Related posts:

— Ron Miller is a freelance technology journalist, blogger, FierceContentManagement editor, and contributing editor at EContent magazine.