The call (or, should I say, the Twitter DM) finally arrived. My Google Glass is ready. All I need to do is travel to Manhattan and fork over $1,500, and this piece of cutting-edge technology will be all mine.
I have until June 19 to make up my mind. Do I want this thing or not?
If this DM had arrived a month ago, I would immediately have jumped on the opportunity, but buying Glass is like any other big purchase. If the opportunity comes while you're really excited, you do it, but when you're given time to think about it, doubt creeps in. Do I really want this so badly that I'm willing to spend that kind of money? What if I hate it? It's mine, whether I like it or not. Google's terms tell me I am not allowed to resell Glass. But these terms also give me 30 days to return the device if I'm not satisfied.
If I were a company instead of a sole proprietor, I could easily justify an expenditure of $1,500. If I owned a bigger business, I might even shell out $15,000 to let my developer team have at 10 of them. But I'm a solo freelance journalist, and I have to decide if this piece of technology will be a differentiator or if I might get bored with it and throw it in a corner -- all that buildup and 1,500 smackeroos down the drain.
As a journalist, I see this device as a means to an end. It gives me a head start over many in my field who might not have this early opportunity for any price. But at this point, it seems that so many people have written about it since I learned I was selected that I don't feel like I'm getting the jump I was once sure I would have.
That said, this is the fourth piece I've written about this device since I learned I was one of the chosen few. If the number of comments is any indication, you folks are certainly interested. We had 98 comments on that first post alone, and I haven't even begun to review Glass in depth or describe my experience or the reaction of others when I use it -- if I actually get it. I could write a lot more about this, and I could presumably generate a lot more income. I've even spoken to a friend who owns a small publishing company about writing an e-book about my experience, perhaps really striking while Google Glass is still a hot subject. Yet a question remains -- is Glass really a hot topic outside the tech community?
I could be overstating the extent of public knowledge about Glass. No doubt, some people still don't even know what it is. We who cover the cutting edge tend to get bored with the next big thing before the mainstream understands what the next big thing even is. We don't necessarily get that not everyone is plugged into the latest technology trends as we are.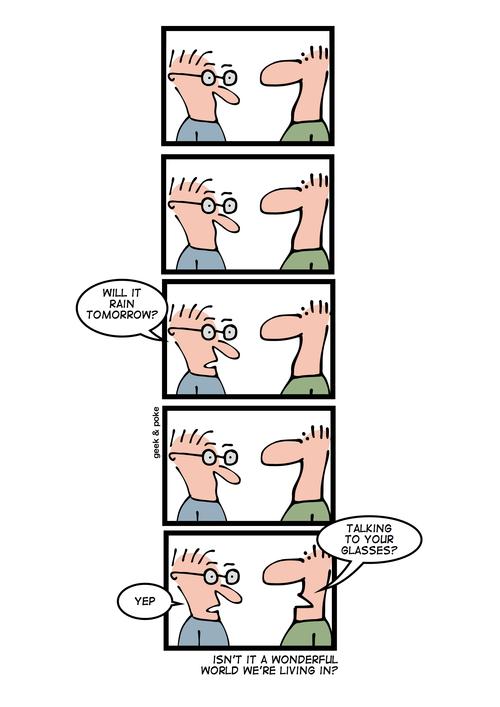 If I were a CIO, I'd seriously consider digging into my discretionary budget and letting someone like me play with it and figure out if we should be thinking about using it. All good CIOs have an eye to the future, even if only a handful of folks are monitoring the bleeding edge. If you have the opportunity to test that edge, take it. You have an obligation to your company to stay on top of future trends.
But I'm not a chief executive anybody. I'm Ron Miller, freelance technology journalist, and I have a decision to make: to buy Glass or to take a pass.
To be honest, when I started writing this post, I wasn't clear if I wanted to go forward with this, and I've vacillated. In many ways, I'm ambivalent, because I feel manipulated by the entire process. In the end, I can't let this opportunity pass, so I'll hop on that train to New York this month and pick up my Google Glass. And I'll file a full report on my experience. In fact, you can count on it.
Related posts:
— Ron Miller is a freelance technology journalist, blogger, FierceContentManagement editor, and contributing editor at EContent magazine.