Last year as you may recall, the Internet community rallied and prevented the passage of SOPA/PIPA legislation. CISPA, another piece of legislation that targeted Internet freedom, also died. However, one proposed law that failed in 2012 has been revived this year. And it appears forces are not now lining up against CISPA with the same enthusiasm as last time.

Since it's tough to follow Internet privacy-assault laws without a scorecard, let me start by offering a brief explanation of the legislation, then talk a bit about who's for it and against it, and finally why Congress is so ill equipped to deal with any legislation related to technology.

David Gorodyansky, CEO and co-founder of AnchorFree, a hotspot shield app, said in a statement:
The Cyber Intelligence Sharing and Protection Act, or CISPA, bill has enormous implications for online freedom and privacy. No U.S. citizen would support complete immunity for corporations wanting to eavesdrop on conversations, much less share what they hear with the government, but this is effectively what CISPA would do. The bill is fundamentally flawed and does nothing to protect Internet users from real cyber threats.
After the bill passed the House of Representatives last week, the Electronic Frontier Foundation, which has a solid reputation of protecting freedom and privacy on the Internet, responded. EFF Senior Staff Attorney Kurt Opsahl said:
CISPA is a poorly drafted bill that would provide a gaping exception to bedrock privacy law. While we all agree that our nation needs to address pressing Internet security issues, this bill sacrifices online privacy while failing to take common-sense steps to improve security.
When Congress tried to pass SOPA/PIPA legislation last year, there was a huge hue and cry from the Internet community, including large Internet companies that vocally opposed it. This year is different. In fact, enterprise technology businesses, including Intel, Facebook, Microsoft, AT&T, and IBM (this site's sponsor), are strongly in favor of the bill. Corporate advocates point to the fact it would assist them by making it easier for businesses to share security information that help safeguard the Internet, while claiming it wouldn't have a major impact on consumer privacy, the Verge reported.
Yet there are some disturbing aspects to the current bill that are hard to ignore. In the name of protecting cybersecurity, the legislation would run roughshod over privacy. In fact, last week the House rejected amendments that would have made it more palatable to opponents.
Anonymous this week appealed for an Internet boycott and a Reddit co-founder called on Google to oppose the legislation. Despite these separate entreaties, there doesn't appear to be the broad opposition there was last year, especially as many big Internet companies stand on the sidelines or approve the legislation.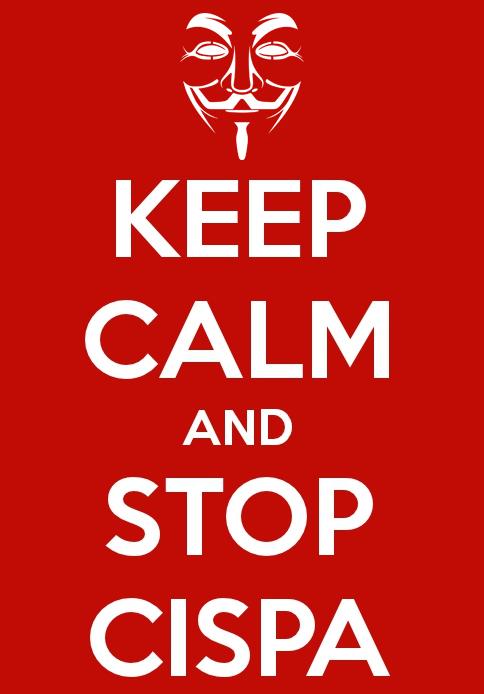 Back in D.C., the bill heads to the Senate this week, where it's possible more privacy protection could be added, but there is no reason to believe the Senate will not pass this bill in one form or another.

That leaves President Barack Obama as the last best hope for the bill's critics. Only last week, the president released a statement saying he would veto the bill as it's currently written.

Looking beyond CISPA, over and over we have seen evidence that Congress and the courts are ill-equipped to deal with any legislation or laws related to technology because most members lack any real knowledge about how the systems work and they are easily manipulated by special interests.

As it stands, CISPA is an assault on user privacy that would actually compel companies, big and small, to share your data even if they wanted to protect it. Surely everyone agrees that the Internet security system needs work, but just because it requires some action, doesn't mean that just any action is worth taking.

Right now, this piece of legislation appears to be more about assaulting the privacy of private citizens than it does about protecting the Internet backbone. It's time for a measure of common sense. Let's hope President Obama provides it if Congress won't -- and the checks and balances hold one way or the other.

Related posts:

— Ron Miller is a freelance technology journalist, blogger, FierceContentManagement editor, and contributing editor at EContent magazine.