Late Friday I learned I had been chosen to participate in the Google Glass Explorer's program, a group selected to take the first-generation of Google Glass out in the world and report back on how they're using the devices.
For those who aren't familiar with Google Glass, it's a wearable computer that looks like a pair of glasses. I haven't actually used it (yet), but reportedly you see the world through your glasses, can access a computer, and see the screen by looking up and interacting via voice commands. You can take pictures, watch video, and get directions -- in short, anything you can do with a computer -- except you're wearing it.
I don't expect to start skydiving, hot air ballooning, figure skating, or ballet dancing; but this Google Glass video gives you an idea of what the device can do:
So how did I get in? Back in February -- on a whim, mind you -- I saw a tweet about the contest Google was holding. If I tweeted what I would do if I had a Google Glass, they might admit me into the program if they liked my answer.
I sent out the following tweet and forgot about it -- until a friend sent me the response tweet Google sent me last week and that I had missed in my own Twitter stream!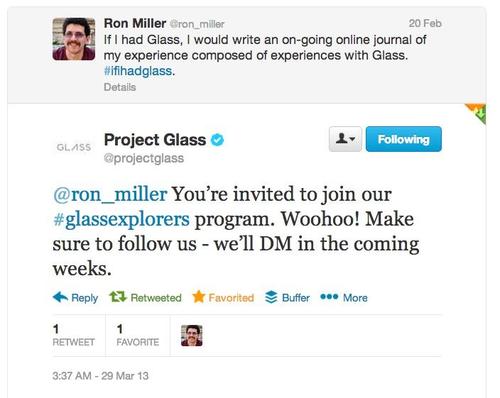 To my utter shock and surprise, the Google team chose me. To say I was excited about the prospect of having one of the most cutting-edge devices available today is an understatement. Try flabbergasted. Amazed. Stunned. I had tweeted my response without much thought -- and I never dreamed Google would pick me.
My surprise only increased when I realized the vast majority of folks chosen to participate in the program are celebrities, according to the Verge. Celebrities -- and little old me.
There is a catch. I have to buy my Google Glass device to the tune of $1,500. Small change, perhaps, for those stars. Not so much for us freelance writers. Suddenly my excitement was tempered, and my wife's grew underwhelmed.
As a journalist I get to play with toys all the time, but the company usually lends me the devices, and I return them when I'm done. This case was different because I wasn't actually chosen because I'm a journalist, although that's very likely part of it. I was chosen to be another voice in the program.
When I asked Google how this program was different from a typical review, a Google spokesperson put it like this:
The Glass Explorer Program refers to the initial community of people who will own the first publicly available device -- called Explorer Edition -- and help us shape the future of Glass. This program is a vital part of the Glass project. We need thousands of people to take Glass out into the world and start exploring what's possible with a device like this; we can't dream up all of its potential uses by ourselves. We're looking for people who are really excited about experimenting with a fast-developing technology and about putting Glass's best features to new and interesting uses.
As I wrote back in my email, trust me, I'm most definitely excited about it. I write about technology every day. Now I have the opportunity to be one of the first people to play with and help shape one of the first commercial wearable computers.
I'm over-the-moon excited. Now I just have to convince my skeptical spouse that it's worth the investment. As I told her, I've already got an assignment from this gig, and I don't even have the glasses yet.
I'll let you know more when I learn more. Google said it will be back in touch. All I need is a credit card and a sense of adventure. I guess membership does have its privileges -- for a price.
Related posts:
— Ron Miller is a freelance technology journalist, blogger, FierceContentManagement editor, and contributing editor at EContent magazine.