If you weren't convinced that copyright enforcement has gone completely overboard, several recent incidents ought to convince you. Whether it's using automated bots to shut down legitimate content or using government power to seize Websites -- copyright oversight is out of control.
Let's look at three stories of copyright control run amok.
Let's start with a tale that's so wild, it's hard to believe it actually happened. Just the other night, UStream, the online video service, was streaming Worldcon's Hugo Awards live. (The Hugo Awards, for those who aren't familiar, are the most prestigious awards in science fiction.)
According to a post on the i09 Website, in the middle of the ceremony, the live feed was cut and a message appeared: "Worldcon banned due to copyright infringement."
What exactly was that copyright infringement? It turns out the Hugo Awards was showing clips of the award-winning entries -- which by the way, the Hugo Awards had permission to do; the content owners themselves had shared the clips (but even if they hadn't, as i09 pointed out, the materials fall under fair use).
In spite of these facts -– and of any common sense -- UStreams' own copyright bots shut down the ceremony for copyright violations. It seems the service uses an automated system to determine if copyright is being violated, and according to an explanation from UStream's CEO Brad Hunstable on the company blog, the system implemented an automatic shutdown when it determined a copyright infringement had occurred -- even though it hadn't.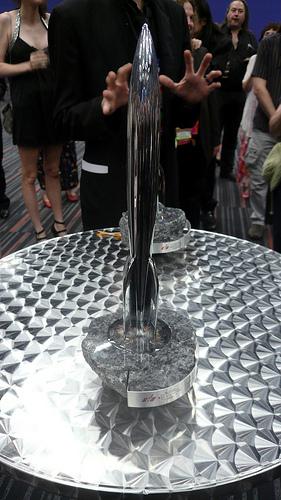 At least Hunstable apologized, and has suspended use of this system until they can find a way to tune it so it doesn't shut down legitimate content in the future.
It's one thing to have bots shutting down a system; it's another for the government to use agencies set up to protect the country from criminals and terrorists to go after alleged copyright infringers. According to a TechDirt story, Rojadirecta, a Spanish Website that was accused of embedding content from another site, was shut down for 18 months until the US government realized there was no case and relented.
But as bad as bots shutting down a live event and the government seizing Websites without real cause or due process may have been, this wasn't the worst case. Not by a long a shot. That distinction goes to a case in England where the owner of a Website got sentenced to four years in prison for hosting a site with nothing but links to content, some of which were considered illegal.
The key here is that site owner, Anton Vickerman, did not display any actual content on his site. He simply had the audacity to link to it.
According Ars Technica, Vickerman was targeted by a media industry group called the Federation Against Copyright Theft (FACT), which hired private investigators, gathered evidence, and encouraged the government in Britain to take legal action against Vickerman. It wasn't illegal, but it was highly unusual to have an industry-sponsored group drive a prosecution in this fashion.
Overall, these three incidents show a copyright enforcement system that has grown so far out of proportion that we have automated digital copyright control systems shutting down legitimate content; governments seizing Websites without clear wrongdoing; and industry groups working hand-in-glove with prosecutors to shut down and prosecute site owners whose only crime is linking to other Websites.
This has clearly gone way too far. I'm sure there are plenty of bad people in the world planning horrible acts. It's high time government agencies, whose job is to stop these criminals and terrorists, to put their resources to better use than going after alleged copyright violations on behalf of the big media companies.
Related posts:
— Ron Miller is a freelance technology journalist, blogger, FierceContentManagement editor, and contributing editor at EContent magazine.