In his now famous "Dawn of a New Day" exit memo last fall, Ray Ozzie warned Microsoft Corp. (Nasdaq: MSFT) employees that they had better prepare for what he called a post-PC world.
If numbers from a couple of recent IDC reports are to believed, that world could be upon us already.
Here's part of what Ozzie had to say, as a challenge of sorts for Microsoft employees to imagine this post-PC world:
And so at this juncture, given all that has transpired in computing and communications, it's important that all of us do precisely what our competitors and customers will ultimately do: close our eyes and form a realistic picture of what a post-PC world might actually look like, if it were to ever truly occur.
The last sentence suggests that this post-PC vision is far off in the future, but Seth Weintraub writing in Fortune compared two recent reports from IDC and found that smartphones have actually passed PC shipments already. Let's look at the two charts from IDC.
The first covers fourth-quarter 2010 worldwide PC shipments: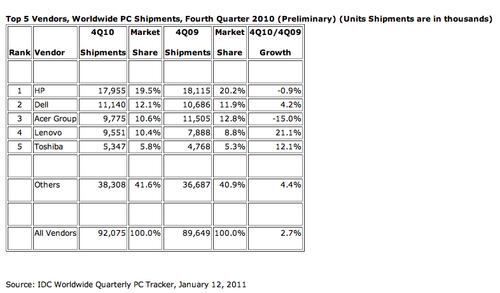 In this chart as you can see the total number of PCs shipped was 92.075 million. Now let's look at fourth-quarter 2010 worldwide smartphone shipments: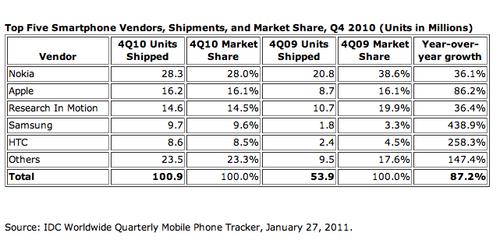 This chart shows that 100.9 million smartphones were shipped.
I may not be a math genius, but even I can see that smartphones outsold PCs in the fourth quarter of 2010. I know that this is just one quarter, and it's based on IDC's counting methods (which involve a number of sources, including unit shipments from the manufacturers and analysis of upstream supply chain and downstream sales channel claims by suppliers).
We probably have to see some more data over a sustained period of time before we can mark this as a real trend, but clearly it shows we are in the midst of a market shift. That shift could be because we are moving to Ozzie's post-PC world more quickly than we thought, or it could be a result of ever-cheaper smartphones being sold across areas of the world where it's much more common to use a phone to access the Internet than to use a PC.
In a discussion the other day on Internet Evolution about the popularity of the Verizon iPhone, Michael Singer suggested, while taking a swipe at the quality of the AT&T network, that making calls was Job 1 of a cellphone. But I would argue that making calls has become secondary in the age of smartphones with apps and Internet access.
I know I use it more as a portable computer than a phone -- to look up things, to check the weather, sports scores, Facebook and Twitter, headlines, and even my AT&T monthly usage. It has become in many ways a replacement for my PC. (And it has a digital camera and my music on there, too.)
Whether or not this a long-term trend is impossible to say with any certainty, but these numbers look as if we have turned a corner into the next phase of computing and Internet access, and it's impossible not to feel that this is highly significant.
— Ron Miller is a freelance technology journalist, blogger, FierceContentManagement editor, and contributing editor at EContent magazine.