LinkedIn Corp. offers one of the industry-leading social networks and online communities in use across today's fast-paced information technology industry. LinkedIn's focus on business-to-business networking and facilitating the sharing of ideas and strategies has won the trust of technology businesses. More and more business professionals are turning to LinkedIn because of its overall effectiveness in the marketplace. It is the focus on business with technology that has IT business leaders adopting this social networking platform.
Not unlike many of its counterparts, LinkedIn does have privacy challenges, according to many C-level executives. Many are unaware of the apparent risks to corporate contacts when setting up their LinkedIn accounts. While these security concerns are not a showstopper, there are many settings turned on by default that automatically allow for browsing of contacts and also leave a trace of who visited which profiles.
As LinkedIn is built on a community and like many other online networks, embraces the sharing of information and contacts, how do businesses balance the foundations of LinkedIn with the compliance and confidentiality measures of business today?
Many organizations, as part of a social media acceptable-use policy, are now requiring that specific changes to LinkedIn privacy settings be made, ensuring business contacts and information are kept confidential.
The following recommended key privacy setting guidelines are ideal for organizations leveraging LinkedIn to make sure a certain degree of privacy remains in place. These settings are accessible through the SETTINGS menu in the top right corner of your LinkedIn page. Here is that main menu:

If you click on Settings, you will see an option for "Connections Browse" under Privacy Settings. That option allows your contacts (those connected directly to you) to browse your LinkedIn connections. Disabling this feature will prevent your connections from seeing whom you are directly connected to. This will make sure key vendor contacts and clients connected through LinkedIn remain confidential.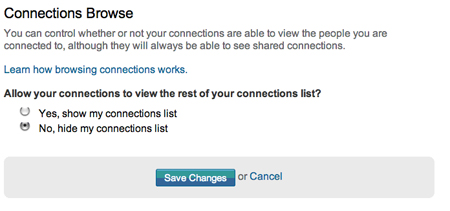 Also under Privacy Settings, you will find Profile Views. This setting controls the "breadcrumbs" you leave behind when you visit another person's LinkedIn profile. Engaging this setting will leave your LinkedIn network confidential from those looking to harvest information about you. When you visit a profile on LinkedIn, your information becomes available to that member; turning this off disables this information from being left. You can choose to leave your full details -- your job, industry, and title only -- or simply leave no trace that you were there.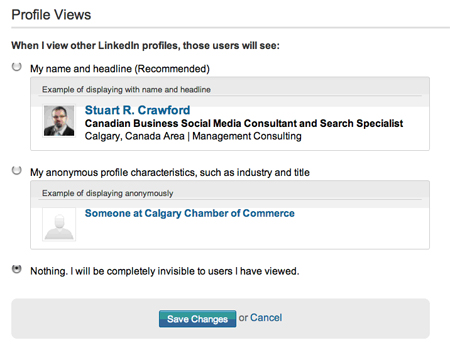 Privacy online is important across many technology organizations large and small. These recommendations can protect your key contacts. In addition, you also will protect your identity when viewing the profiles of others. This is something your IT firm or department can share as a matter of policy with your peers and clients.
This is just a first step. It is extremely important that organizations ensure privacy is maintained at all times online. Social networks have the potential to connect the business with the market when used correctly. I advise that IT departments check security on other online services such as Facebook, Twitter, and blogs in addition to having a corporate social media acceptable use policy for all employees.
— Stuart Crawford is a strategic online communications and IT marketing professional with Ulistic.