On the whole, the number of Internet users is growing 8 percent year-over-year, driven by emerging markets, to 2.4 billion users this year. The world added nearly a billion Internet users -- 902 million -- since 2008. But there's still plenty of room for growth, with just 34 percent of the global population connected.
The USA added 18 million new Internet users over the past four years, for a growth rate of 3 percent and 78 percent population penetration.
But it's the smartphone growth rate that's really impressive. Worldwide, 1.1 billion people have smartphone subscriptions, with a booming 42 percent growth rate. And there's plenty of room for growth there, too, with only 17 percent of mobile subscribers being smartphone users. Growth is booming in the US, with 173 million subscriptions and a 50 percent year-over-year growth rate.
Mobile growth has broken the back of the Windows/Intel monopoly. Wintel accounted for 96 percent of personal computers from 1998 to 2005, and just 35 percent this year, with the difference made up primarily by Android and Apple platforms. Smartphone and tablet shipments exceeded PCs in the fourth quarter. The installed base of smartphones and tablets will probably exceed PCs in the second quarter of 2013.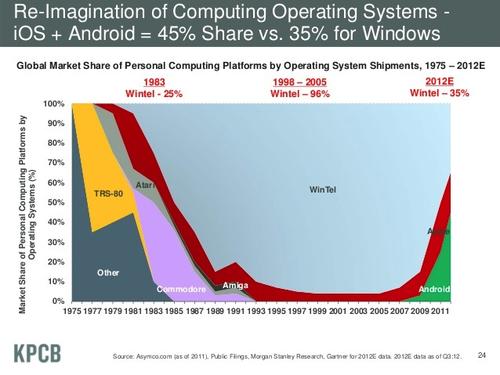 It's an amazing presentation, which touches on changes the Internet has made in publishing, media, cash registers, magazines, R&D, investments, recruiting, product design, education, and more. It's well worth pouring a cup of coffee and perusing Meeker's whole presentation...
Related posts:
— Mitch Wagner




, Editor in Chief, Internet Evolution